Golden Plains Shire Council is redeveloping the main customer service centre at Bannockburn into an inclusive venue which will be re-named the Golden Plains Community and Civic Centre (GPCCC).
Council is extending and improving the Bannockburn Customer Service Centre for residents, Councillors and Council staff. 
Key features
More space available for interaction between Council and the community, including improved customer service areas and confidential meeting spaces
Flexible and efficient working spaces to better serve our residents
Improved public access to Council through more accessible and welcoming spaces and use of technology. 
Project information
Learn more about the redevelopment's features and why Council is undertaking this project via the resources linked below. 
Further information can be found on the project's 'Have Your Say' page here.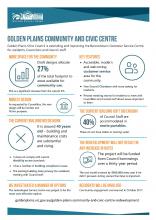 Status
Around 150 people responded to Council's call for input to the Golden Plains Community and Civic Centre during October-December 2017.
Feedback included a number of suggestions about environmental efficiencies (solar power and water-saving), telecommunications and digital access, and triggered immediate and important changes to the concept plan.
Many suggestions will be addressed later on – in the development of the detailed designs.
Importantly, feedback tells us that residents would like to see the existing Shire Hall in Bannockburn made available for community use.
Council has workshopped feedback and will endorse the final feedback paper for the new building in February 2018.