October and November 2018 art highlights
Date:
Thursday, 11 October 2018 - 11:45am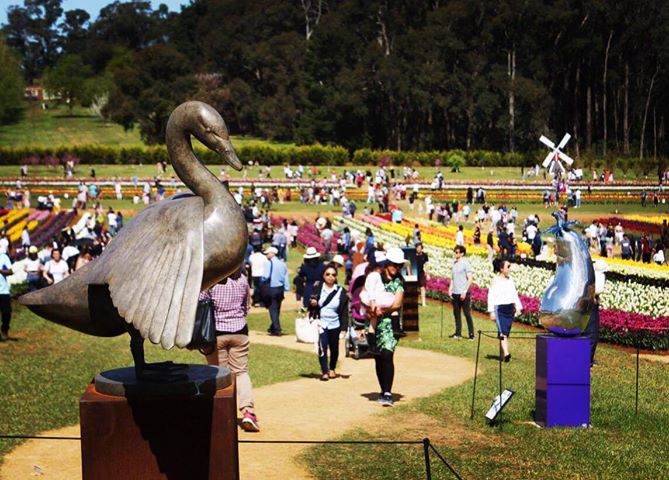 Spring is an exciting time in the arts, culture and history scene of Golden Plains Shire and the region. Below are some of the arts events you can get involved in or attend.
LOLA – Linton on Literary Arts
This two-day literary arts festival celebrates the history of Linton and will capture and present the stories of the people of Linton. LOLA will feature writing and song workshops, art exhibitions, creative performances and historical entertainment. It will also have food vans, coffee and a BBQ. Held in the beautiful, historic township of Linton, this weekend is a fantastic opportunity to immerse in creative, literary arts.
When: 20-21 October 2018, 10am-5pm
Where: Linton township
Cost: FREE (some of the events require registration)
Find out more: LOLA Facebook page           
Golden Plains Community Choir
The community-driven Golden Plains Community Choir is calling for new members – if you're over 18, like socialising and love singing, then this choir is ideal for you. The group practice weekly, and perform at community events.
When: Every Wednesday evening, 6-8pm
Where: Bannockburn Cultural Centre
Cost: FREE and no bookings required
Find out more: Contact Carly Veenstra: carly.veenstra@gmail.com
Incite
Golden Plains Shire Council invites you to attend Incite! This insightful evening will feature three inspiring guest speakers who will impart their wisdom and experiences and help you ignite your creativity. You will also be able to network with local creatives and be kept informed about opportunities available to you. This event is ideal for people in creative industries, artists and local art lovers.
Guest speakers:
Cake Industries, experimental artist duo
Christian Ferrante, Rose Street Artists Market – Owner
Malcolm Sanders, Regional Arts Victoria - Creative Arts Facilitator.
When: 1 November 2018, 6-8pm
Where: Meredith Hall
Cost: Free
Find out more: Incite Facebook event or email Samantha.thompson@gplains.vic.gov.au
Art meets nature – WAMA exhibition
Residents who love exploring amazing art needn't look further, with a WAMA exhibition to be held 16-25 November at the elegant Lucy McEachern Studio Gallery at Wingeel, near Inverleigh. The exhibition features work in a wide variety of mediums and styles by artists who look to the environment for inspiration.
When: 16 November, 6.30pm (launch)
Where: 984 Wingeel Road, Wingeel
Cost: Free
Find out more: Contact Lucy McEachern on 0419 893 954 or read more here.
Meredith History Exhibition – William Dunbar Johnston
Artists have responded to an 'artist call' and a chance to win $500. This body of work is now exhibited at the Bannockburn Cultural Centre; the artwork depicts various interpretations of local identity and historic figure, William Dunbar Johnston. This exhibition is brought to you by the Meredith History Interest Group.
When: 1 November until Christmas (exhibition)
Where: Bannockburn Cultural Centre
Cost: Free
Find out more: Contact Bev Loveday on 0438 514 176
Upcycle – creative kids at The BOP
Pop into the BOP on the second Saturday of every month, 12-3pm, for a different kids' activities. Participants will be able to create something special, using recycled material. Creations might include tin can planes, caterpillars, mine craft figures and more. Suitable for ages 4-12 years. This event is proudly brought to you by the BOP Arts Co-Op.
When: 10 November
Where: 10 Wallace street, Meredith
Cost: $5 each and bookings required to secure your spot
Find out more: Contact Bev Loveday on 0438 514 176 or find out more on Facebook here.
Jam at the end of the world
Run over two days in the gallery, local young artists will be able to create and jam with creative duo, Cake Industries. An amazing artist collaboration, Cake Industries share a broad range of skills in a variety of mediums, which allows them to execute works that are technically, functionally and structurally complex. This event is brought to you by Cake Industries and supported by Golden Plains Shire Council. 
When: 24-25 November, 10am-late
Where: Main Street, Linton
Cost: Free – participants must be aged between 18-25 years and bookings are required via email (see below).
Find out more: Contact Jessie – Icing@cake.net.au or samantha.thompson@gplains.vic.gov.au.
'Supporting Local History Groups' seminar
Leading local government arts and heritage staff share their experiences supporting community history groups, including setting up networks and providing training and assistance. This event is brought to you by Mueseums Australia.
When: 15 November
Where: Kathleen Syme Library and Community Centre, 251 Faraday Street, Carlton
Cost: $40 and bookings are required (book here)