Local volunteers recognised at Geelong Volunteer Awards
Date:
Monday, 18 December 2017 - 9:30am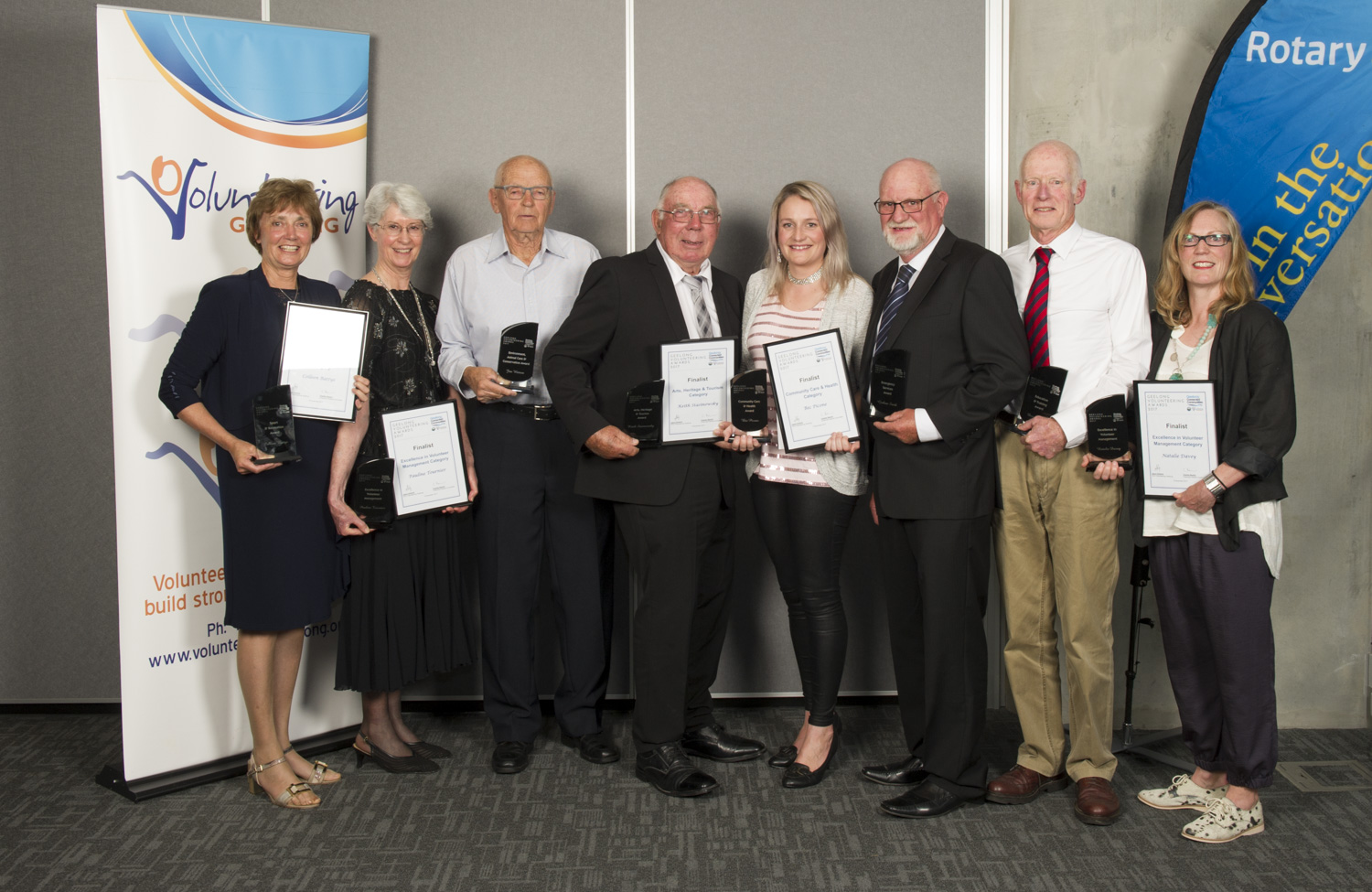 Golden Plains Shire residents and staff were recognised at Volunteering Geelong's first ever Geelong Volunteering Awards on 5 December. The awards recognise outstanding contributions in the volunteer community.
Over 100 people filled the Presidents Room, Simonds Stadium to see various awards presented across eight categories.
Amongst the local stars, we had four finalists – and even a few winners!
Colleen Battye – Sport and Recreation Award winner
Colleen was nominated for her contributions to the Sutherlands Creek Tennis Club. From January 2017, Colleen has led the community effort to develop the Sutherlands Creek Reserve. This originated from Colleen's successful application for a Golden Plains Shire Council community grant. Colleen's efforts have transformed a relatively abandoned area into a vibrant natural bush site with amenities for all to use, including tennis courts and open space – incredible effort!
Colleen is also known to inspire the young, and not-so-young, including new residents and families, junior and senior tennis players, bike club members, visitors and more. Coleen puts in time and selfless efforts to help make sure people feel welcome at the Tennis Clubrooms and Sutherlands Creek Reserve. What a wonderful woman!
Congratulations to Coleen on her big win.
Pauline Tournier – Excellence in Volunteer Management winner
Pauline is heavily involved in the Maude, She Oaks and Steiglitz Planning Group, where she 'runs the show' – guiding, researching mentoring and helping out these communities in so many ways. She is well known for putting community needs above her own and finding valuable and long-lasting solutions to any number of problems and concerns within the area. She works tirelessly to help others achieve great community outcomes and ensures that there are plans in place to keep the area vibrant and sustainable.
Pauline is largely the reason the community groups that she is part of, have been able to make such a difference to these country communities. Her efforts have included refurbishment of honour boards in Maude and Steiglitz to highlight the history of the community, organisation of recent RSL tours and the opening up of communities for tourists to explore.
Congratulations to Pauline on winning this award.
Caroline Jordan – Emergency Services Award finalist
Caroline is Golden Plains Shire Council's Volunteer Coordinator and successfully adapted a complex Municipal Emergency Management Plan to include new programs and processes for recruiting volunteers to support work for relief and recovery after emergencies.
She developed materials to promote general volunteering and volunteering after emergencies, planned for a team of 'first responder' volunteers to support relief and recovery work after local emergencies, and tapped into volunteer resources within the local community to prepare systems for future work in relief and recovery.
Caroline is all about being proactive in planning for emergencies and her efforts provide a best practice example of emergency management in the local government context.
Caroline didn't come out with a win, but her efforts are to be commended.
Damian Brunt – Sport and Recreation Award finalist
Damian was nominated for his contributions to the Meredith Cricket Club.
Damian, or 'Damo' as everyone calls him, is a long-time member of the Meredith Cricket Club.  Damo knows everyone in the town and does all the hard work around the Club. He runs and stocks the drinks fridge, mows the oval, carries out general maintenance and repairs, captains our 'second eleven' (and takes on all the associated duties), organises people to and from different grounds, sets up and runs training sessions, organises afternoon teas, and has coached the Club's junior sides as well.  He does it all without expecting any kudos or rewards, and cares deeply about the Club and the town.
This year, he also volunteered for the Moorabool Valley Crocs Football team, based at the same oval. What a guy! Congratulations Damian!
Congratulations to Damian on his nomination.
Golden Plains Shire Council congratulates all these superstars – the Shire's culture of volunteering is a big part of why Golden Plains is such a great community to live in.  
---
Pictured:
Colleen Battye – Sport and Recreation Award (GPS volunteer from Sutherland Creek Tennis Club)
Pauline Tournier – Excellence in Volunteer Management (GPS volunteer from Maude Steiglitz Community Coordinators)
Jim Watson – Environment, Animal Care & Conservation award
Keith Stasinowsky – Arts, Heritage & Tourism
Bec Picone – Community Care & Health
Graham Smith – Emergency Services
Derek Ryan – Education & Training
Natalie Davey – Excellence in Volunteer Management