Council is committed to enriching the lives of community members by arts, culture and history.  We are proud to support many wonderful creative offerings run by community members, art groups and Council.  Please see below for details of some of the events on offer.  If you have an idea for your own creative event please contact our Arts and Culture Advisor for assistance.
See the latest Arts and Culture news
Spring in the Shire

Golden Plains Shire Council's Spring in the Shire photography competition returns in 2021.
Presented every two years, the Spring in the Shire photography competition is returning in 2021, with entries open from Monday 13 September to Sunday 31 October. This year's competition theme is 'What we share", and photographers of any skill level are encouraged to capture this theme through their lens. Images can be of anything, place or person (with appropriate permissions) that represents the Shire's unique surrounds.
In 2021, there are 3 categories, with 30 photographs to be selected for an exhibition and go in the running to win a major cash prize. This year's categories are:
Major Prize (18 years and older)
Young Adult Prize (13 to 17 years)
Junior Prize (Up to 12 years)
The winners of the Major and Young Adult Prizes will each receive $300, with the Junior Prize winner to take home $200. Council is proud to partner with Stockdale & Leggo Bannockburn and Healthwise Pharmacy Bannockburn to offer these great prizes.
For more information and to enter, click here.
Arts and Culture Strategy
Golden Plains Shire Council's Arts and Culture Strategy 2018-22. Council will be working on an updated Arts, Culture and Heritage Strategy in 2021, so stay tuned for updates on consultation here. 
View the Arts and Culture Strategy here.
Arts & Culture Golden Plains Facebook Page
Follow this page for opportunities, artists' call outs, event information and project information.
Zoom Me A River
Facilitated by Council, the five-minute film is a creative response to the social isolation and how communities came together virtually during the COVID-19 pandemic in Golden Plains Shire. The project was a multi-media collaboration involving multiple individual artists and groups from all corners of the Shire. The final video product was brought together and animated by film maker Leonie Van Eyk from Castlemaine, who worked with each group and artist to develop the content.
The film was funded by a $5,000 grant from the Australian Government's Regional Arts Fund Recovery Boost program for the project. The Australian Government's Regional Arts Fund is provided through Regional Arts Australia, administered in Victoria by Regional Arts Victoria.
GP Arts Inc. Arts Trail
Local community group GP Arts Inc. manage this popular event. Due to COVID, this event is indefinitely postponed, however many artists across the region will be hosting open studios programs throughout the year. For more information, contact GP Arts Inc via the link below.
LOLA - Linton On Literary Arts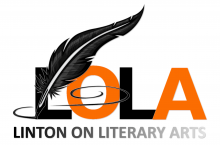 LOLA - Literacy on Linton Arts
Due to the success of 2018 & 2019 LOLA  Festivals the community hope to run this event again in October 2021.  This event celebrates the local stories of Linton and it's people through literacy, events and the arts.
For further details about LOLA click here.
Arts Atlas

A fantastic arts resource and free-to-use listing service for the Geelong and Central Highlands regions.  Visit Arts Atlas Geelong and the Central Highlands Arts Atlas for more information.
Golden Plains Arts Inc.
An independent group of artists and arts supporters who partner with Council to plan and deliver arts and cultural events across the Shire. Please contact us if you would like to become a member.
Arts in Dereel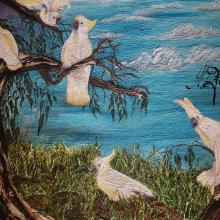 An independent group of artists based in Dereel working to establish and support a vibrant arts culture in the region.  The group regularly holds workshops, events and exhibitions
The BOP Arts Co-Op
An independent group of artists and creatives with headquarters based in Meredith.  This group offers school holiday programs, workshops, exhibitions and room hire for any creative offering that the local community would like to present.
Exhibit at the Bannockburn Cultural Centre for free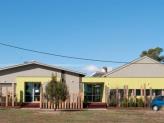 Download the guidelines and application form and exhibit your work at the Bannockburn Cultural Centre!