Here are some of the works projects underway in Golden Plains Shire.
Smythesdale Well facade transformation
See feature image
The Heales Street entrance to the Smythesdale Well has recently undergone a facelift.
There were warped, bowed and twisted timber battens in place that detracted from the appearance of the facility; these have now been replaced with extruded 'Aluminium Rectangular' hollow section battens, which has given the exterior of the building an aesthetically updated look.
The project was undertaken by a local building contractor and completed under budget.
Rokewood Cricket Nets
The newly upgraded cricket training facility at the Rokewood Recreation Reserve was completed in late 2017. This much-needed complex provides a modern three net training centre with absorption pads at the bowlers crease to assist with the impact bowlers suffers in their delivery stride, and dual colour synthetic turf to delineate wicket areas and surrounds.
The facility was constructed to assist and support both junior and senior cricket within the Rokewood region.
Drainage improvements to Dears Lane, Stonehaven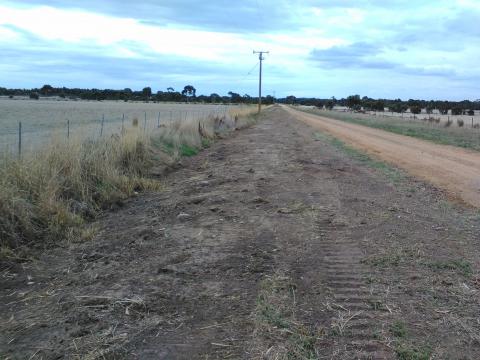 Historically, Dears Lane has flooded at three locations during rain events, mostly due to the flat longitudinal slope and poor roadside drainage. During heavier rainfalls, there is an increased threat of flood to nearby houses.
Residents recently requested a site meeting to discuss concerns, which resulted in the following drainage works:
Removal of overgrown vegetation on the road reserve
Create a table drain to drain off water to three locations, a dam located near Hamilton Highway (north), a natural depression (in the middle, draining to the east) and to the Barwon River at the south end of the road
A 300 diameter culvert across the road located halfway of the road
Replacement of a crossover of the last property (south end).
Installation of speed humps at Victoria Park
A hazard was raised that vehicles were speeding around Victoria Park, creating safety issues for pedestrians and especially for children who access our centres.
Council engineers reviewed the site, and a decision was made to install two speed humps on the bitumen to slow vehicles down.
We have now installed the two speed humps and signs to slow down vehicle traffic. Please note the advisory speed limit for speed humps is 20km per hour.