Victoria Park Lights Officially Open
Date:
Monday, 26 April 2021 - 5:00pm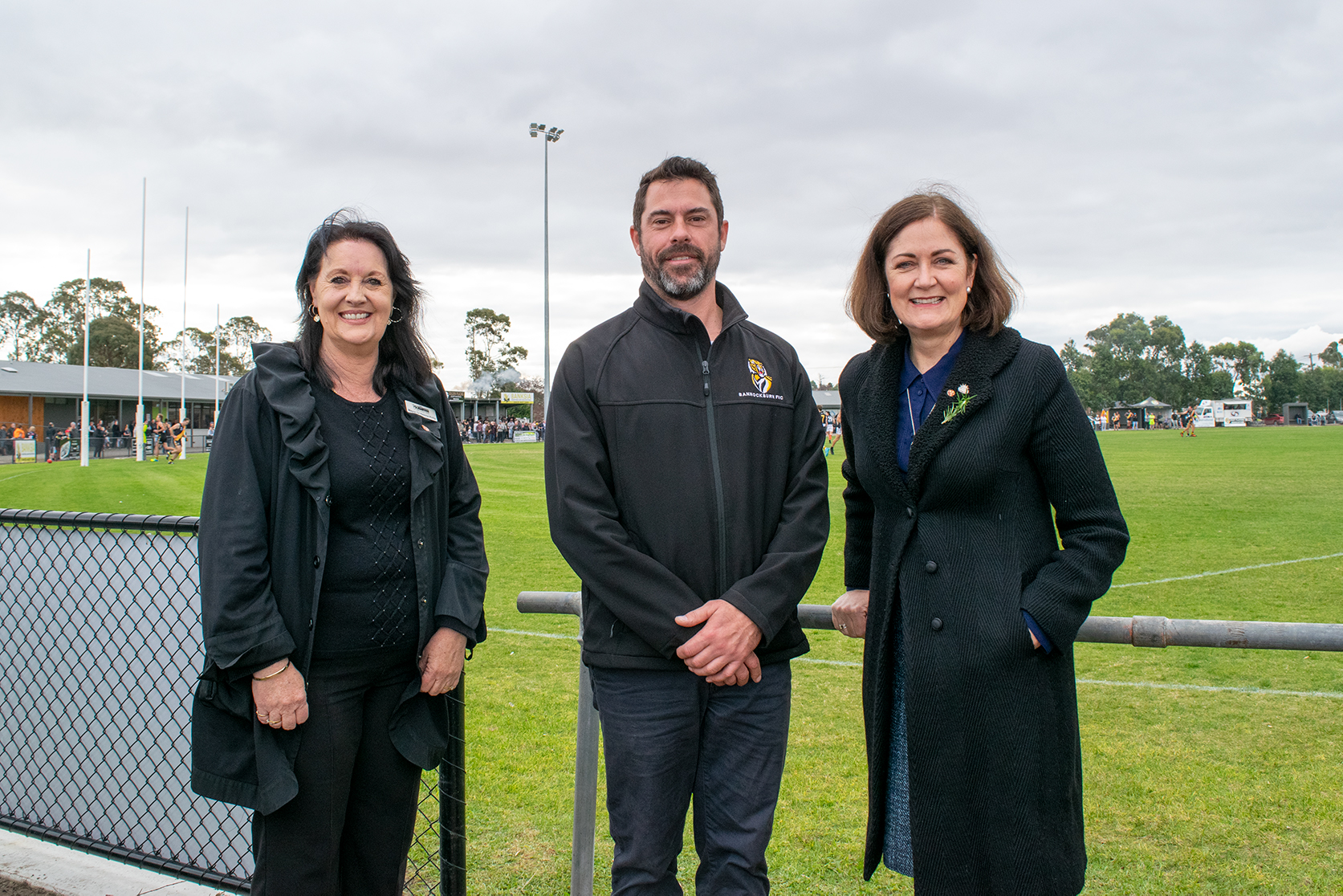 Yesterday afternoon, Senator Sarah Henderson officially opened the Victoria Park Recreation Reserve Sports Lighting Project in Bannockburn, joined by Golden Plains Shire Mayor Cr Helena Kirby and Bannockburn Football Netball Club President Scott Penning.
The official opening took place at half-time of the Bannockburn Tigers senior's football game, before an appreciative local crowd of supporters who had paid their respects at the ANZAC Day commemoration prior to the match.
The lighting upgrade was completed last year, however due to COVID-19 restrictions, this is the first season that the Bannockburn Football and Netball Club have enjoyed training and playing night matches under the new lights. The lighting project was fully funded by the Australian Government's Community Sports Infrastructure Grant Program.  
The new lighting on both ovals meets the AFL standard for community football and surpasses the minimum requirements for local football training and matches. At Victoria Park, the lighting upgrade complements the redeveloped cricket training facility and the new netball and multi-sport courts at the Reserve that were opened in 2019.
Senator for Victoria Sarah Henderson joined players from the Bannockburn Football and Netball Club to officially 'switch on' the light towers on ANZAC Day. Eight light towers in total, on two ovals, have been funded, are also set to benefit other sports such as local cricket.
"Local sporting clubs are the lifeblood of our growing community and now our local athletes, coaches and volunteers can enjoy longer hours of winter sport and training with these brand new high quality lights in place," Ms Henderson said.

"This $500,000 project is part of a $100 million commitment under the Community Sport Infrastructure program to boost health and improve social and community benefits from greater activity and participation in sport.

"Well done to President Scott Penning, local volunteers and the Golden Plains Shire for lobbying and successfully applying for this funding," Ms Henderson said.
Mayor Cr Helena Kirby thanked the Australian Government for funding the new lights and Senator Henderson for supporting this project in Golden Plains Shire. 
"After a quiet year at all our local recreation reserves, it's wonderful to see the return of community sporting events for players and supporters across the Shire. At Victoria Park in Bannockburn, local football players are enjoying team training on both ovals and there was great excitement this month when they played their first competition night match under the new lights.

"Victoria Park is a very popular recreation reserve in the growing town of Bannockburn and with the new lights switched on, there is more opportunity for local walkers and runners to also enjoy active recreation in the evening."