Rokewood Bridge Upgrade Complete
Date:
Wednesday, 12 May 2021 - 2:30pm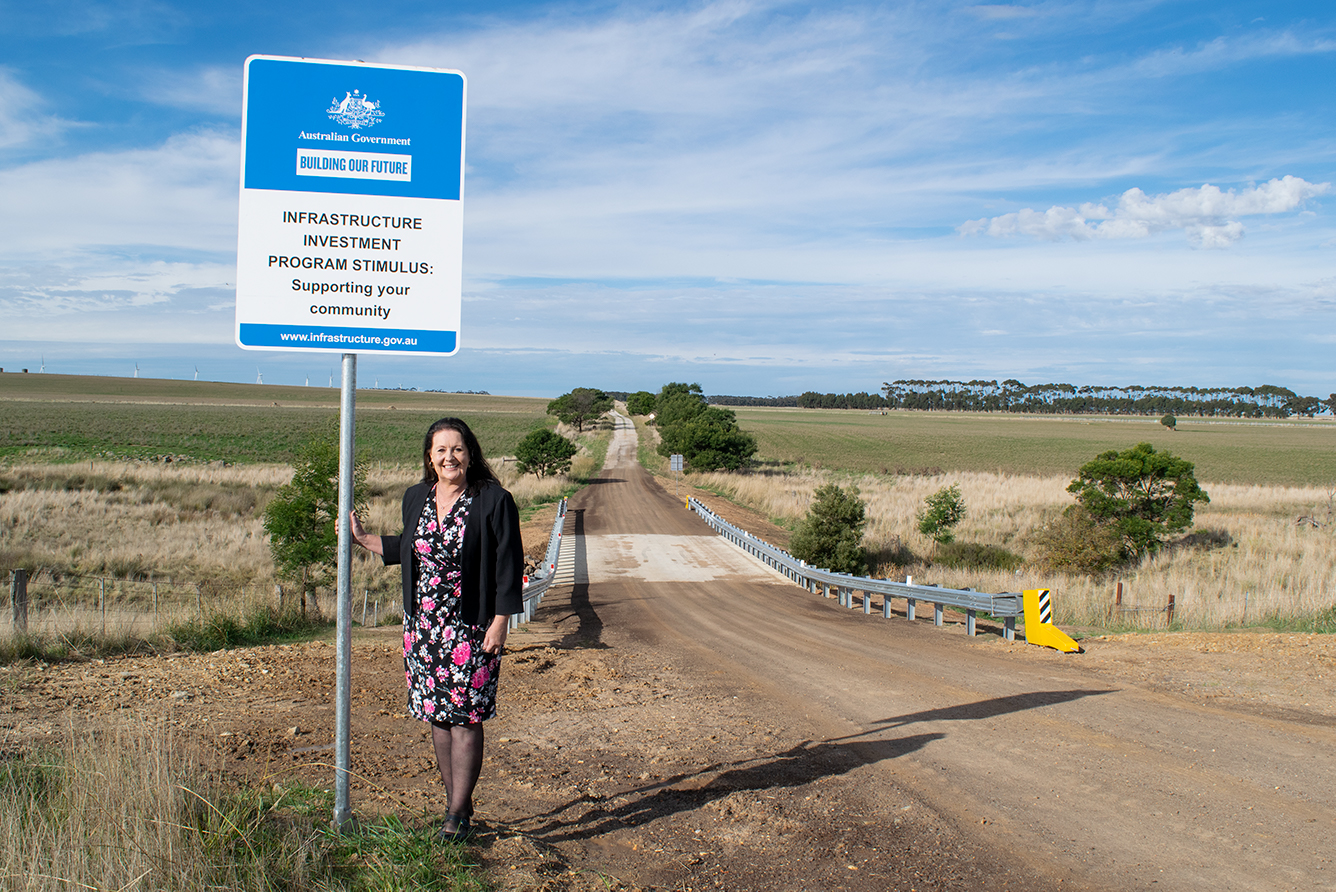 Drivers on Reserve Road in Rokewood are benefiting from the recently completed replacement of the road's bridge over the Kuruc A Ruc Creek.
The bridge replacement project saw the aged, single-lane timber bridge replaced with a new unrestricted, double-lane concrete bridge on an improved road alignment, with upgraded approaches. Safety on the bridge has also been improved through the installation of guardrails.
The $541,374 new Reserve Road Bridge was funded with $508,447 from Round One of the Australian Government's Local Roads and Community Infrastructure program, and $32,927 from Council. The project was one of six Council projects funded through the $1,333,655 grant from the program, which was part of the Australian Government's COVID-19 response to help local councils support jobs and businesses by delivering shovel-ready projects. Council received a further $1,512,680 under the program's second round to deliver a further six projects.
Member for Wannon, Dan Tehan said he was delighted that Golden Plains Shire Council had utilised funding under the Local Roads and Community Infrastructure program to ensure that the ageing Rokewood Bridge was replaced.
"This investment demonstrates their commitment to investing in road safety and helping to get people home sooner and safer. Replacing old timber bridges with better concrete bridges ensures that important regional road links are safer, more reliable and more efficient," said Mr Tehan.
Golden Plains Shire Mayor Cr Helena Kirby thanked the Australian Government for helping Council deliver the much-needed replacement of the old bridge.
"It's terrific to see that works have now been completed to replace the old, single lane bridge over the Kuruc A Ruc Creek with a double lane and unrestricted structure, that is safer for all bridge-users.

"Golden Plains Shire is home to many older bridges, and thanks to the Australian Government's Local Roads and Community Infrastructure program, we've been able to get on and upgrade the Reserve Road Bridge for the benefit of the surrounding community.

"Reserve Road Bridge is the first of four bridge upgrade projects that Council will complete in 2021, with works underway or soon to begin on bridges in Meredith, Rokewood and Rokewood Junction."
Works are currently underway on replacing Slate Quarry Road Bridge in Meredith and Geggies Road Bridge in Rokewood, and later this year, Golden Plains Shire Council will also replace the Paddys Gully Road Bridge in Rokewood Junction. Council has received funding from the Australian Government for each of these projects.