Grants galore across the Shire
Date:
Thursday, 4 July 2019 - 5:00pm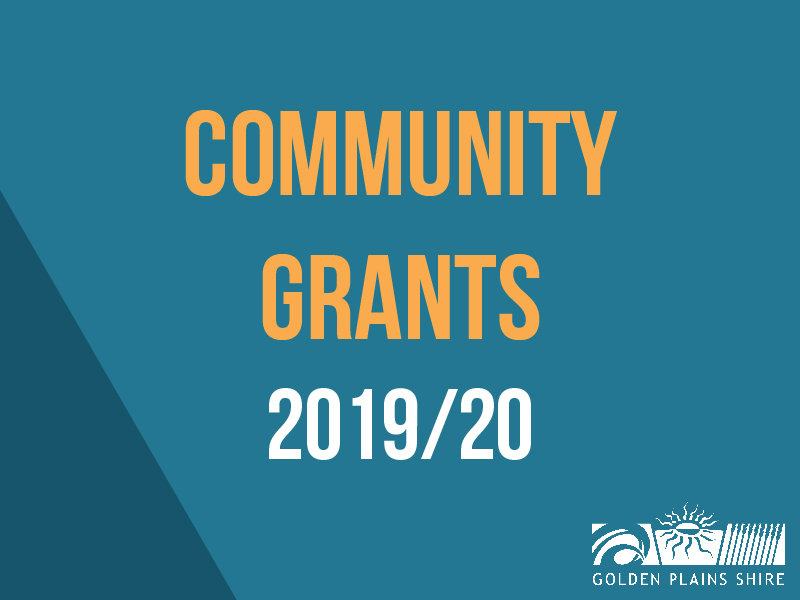 At last week's June Ordinary Meeting, Council approved Community Grants to 32 local community groups and organisations from right across the Shire.
The 32 groups will share in $110,873 as part of Golden Plains Shire Council's annual Community Grants Program. This will allow these community groups to complete projects worth over $267,012. This year marks the 24th year of the Community Grants Program, which provides funding to local groups to help support meaningful projects across the Shire that benefit the community. Successful projects contribute to inclusive, diverse, healthy and socially connected communities.
This year, community grants were received by a diverse field of organisations, ranging from sport and recreation clubs, environment groups, event committees, community coordinators, as well as kindergartens and schools. These grants will support a variety of projects, including improving community facilities, event support, and increasing opportunities for communities to connect with one another. 
 Successful organisations and projects this year, include:
Rokewood/Corindhap Community Planning Group - Reservoir/Corindhap Seating and Exercise Project
Leighdale Pony Club - Cross Country Upgrade and Expansion
Teesdale Primary School Parent Club - Community Grounds Improvement
Inverleigh Play Group - Toy and Equipment Storage
Meredith Golf Club Inc - Meredith Gold Club Revitalisation Project
Ross Creek Landcare Group - Ross Creek Boardwalk Completion
Meredith Kindergarten Incorporated - Meredith Kindergarten Program Enhancement
Bannockburn & District Men's Shed - Landscaping Around the Men's Shed
Mannibadar Hall Committee of Management - Mannibadar Hall Security
Smythesdale Petanque Club Inc - More External Seating at Woady Yaloak Recreation Reserve
Meredith Angling Club - Disability Access Ramps
Shelford Primary School - Shelford Community Playground
integratedliving Australia Limited - Dereel Exercise Program
Napoleons Enfield Landcare Group - Footbridge Reserve Restoration and Maintenance
Meredith & District Memorial Hall Inc - Facility Upgrade
Enfield Recreation Reserve - Tennis Shed Floor Replacement
Sutherlands Creek Tennis Club - Tennis Club Ceiling Replacement Program
Smythesdale Adult Riders Club Inc - Reverse Cycle Air Conditioning
Golden Plains Arts Inc - Golden Plains Community Arts Trail 2020
Ballarat Kart Club - Under 15 Come and Try Karts
Inverleigh Dachshund Derby Incorporated - Dachshund Derby Branded Marquee
Linton & District Bowling Club Inc - Have a Go At Lawn Bowls
Lethbridge Cricket Club - Replace Cricket Pitch
Teesdale Turtle Bend Events Committee - Live@turtlebend 2019
Smythesdale Progress Association - RV Dump Point and Rubbish Management Project
Advance Meredith Association Inc - Highway Tree Guard Project Stage 7
Lethbridge Recreation Reserves Inc - Painting of Change Rooms and Toilets
Lethbridge Public Hall - Let There Be Doors
Dereel Garden Group - Al Fresco Paving Project
Ross Creek - Smythes Creek Community Group - Keeping Ross Creek-Smythes Creek Communities Connected
Inverleigh Public Hall and Mechanics Institute - Inverleigh Hall Floor Maintenance
Linton Primary School - Shade Sails to Increase Outdoor Play
Congratulations to all successful groups and organisations!
The Community Grants Program began in 1996, and since then has supported more than 950 community projects worth $6.8 million. 
Keep an eye on Council's social media accounts, as we profile each successful organisation over the next month. To find out more about the Community Grants Program and other grant opportunities, visit https://www.goldenplains.vic.gov.au/residents/my-community/grants-funding-opportunities