Golden Plains Shire citizens shine in Australia Day Awards
Date:
Thursday, 25 January 2018 - 8:30am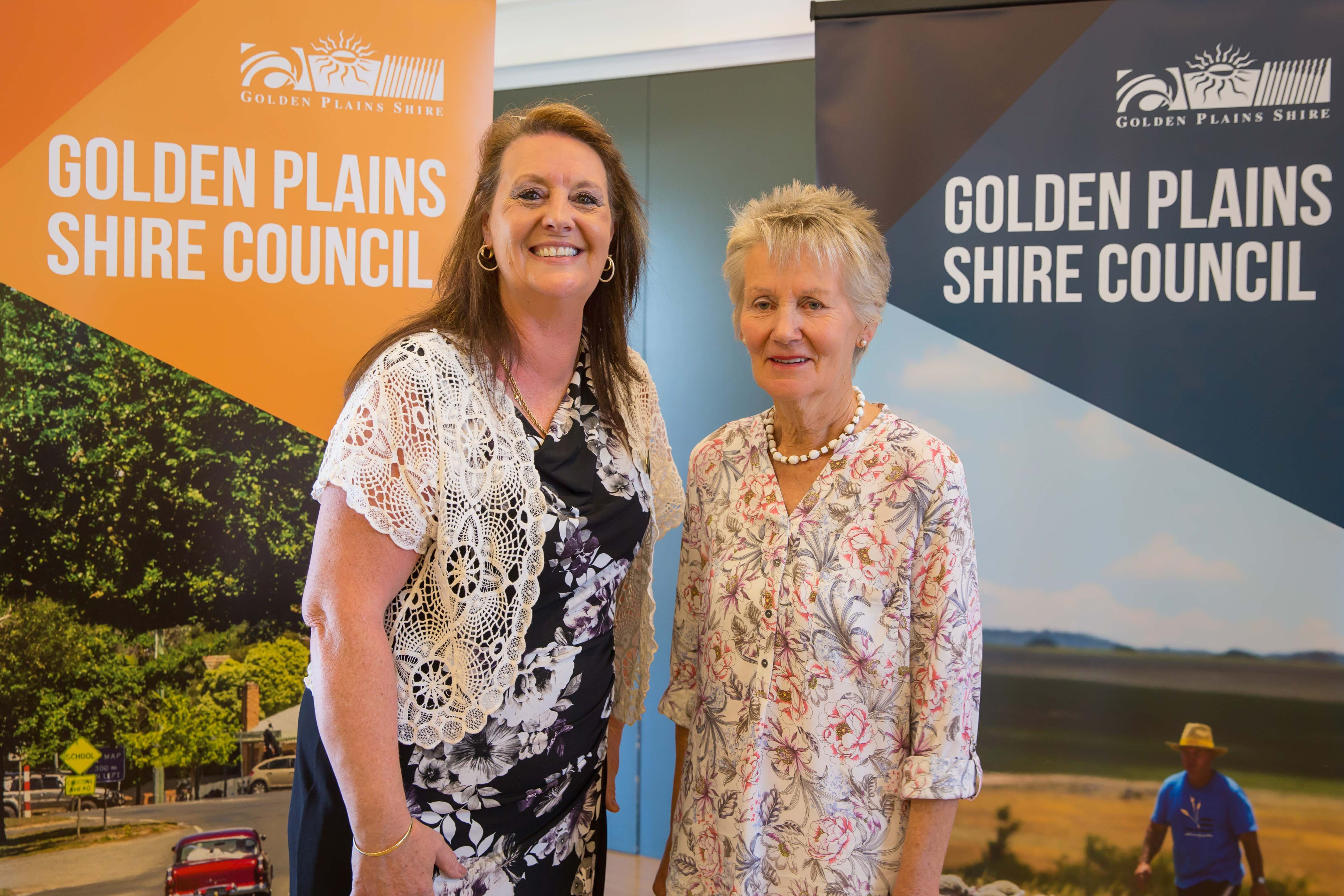 Some of Golden Plains' most community-minded people for 2017 were recognised at Golden Plains Shire Council's Australia Day Awards ceremony on Tuesday 23 January in Bannockburn.
The Awards recognise residents and community groups who have made outstanding contributions to Golden Plains Shire.
Councillor Helena Kirby, Mayor of Golden Plains Shire, along with Stewart Seaton, Council's 2017 Citizen of the Year were delighted to present certificates of recognition to the four winners. 
"Our Australia Day Awards allow Council to celebrate and recognise the efforts of some of Golden Plains' most dedicated and community-minded citizens.
"These selfless and committed people go above and beyond, in their own time, to help make Golden Plains Shire a better place – they don't do it for the recognition, but for the love of their communities.
"All the nominees, not just the winners, are shining examples of community spirit – they are local role models and Council is so grateful for their efforts," finished Cr Kirby. 
Golden Plains Shire Council is very proud to announce the recipients of the 2018 Australia Day Awards.
---

Citizen of the Year – Margaret Cooper
Margaret received this award in recognition of her many years of service to the Meredith community. She is a volunteer at the information centre, an active member of the Meredith Art Group, and a founding member of the Meredith Book Club and Meredith History Group. Margaret has also written many books including Significant Women of Meredith and she also produces a local calendar!
---
Senior Citizen of the Year – Dianne Moylan
Dianne is an extremely active community member in Scarsdale and surrounding communities. Amongst her many contributions, she is the Scarsdale Community Coordinator and Smythesdale Market Coordinator. She also teaches children how to garden at the primary school and was a driving force with the Scarsdale Station and community gym development. Her nominator says developing and growing the Scarsdale community is her life. Dianne is also involved with the cemetery trust.
---

Youth Citizen of the Year – Kaitlyn Schurmann       
Kaitlyn has dedicated countless hours to the Golden Plains Shire Council Youth Development activities and events and has been an integral member for People of Golden Plains, Tech, Tea and Tales, Youth Empowerment Roadshow and Teesdale Twilight Market. Kaitlyn also recently received a Victorian Premiers Volunteer Award in the service category.
---

Community Event of the Year – Linton Town Wide Garage Sale
The Linton Town Wide Garage Sale has been running successfully over the last few years, last year involving over 20 garage sale sites and providing a fundraising opportunity for community organisations. The Garage Sale brings many visitors to the town, which results in increased turnover for local businesses. Community feedback indicates that it is a well organised, thoroughly thought-out community event.