Golden Plains recognises outstanding citizens with 2017 Australia Day Awards
Date:
Tuesday, 24 January 2017 - 4:15pm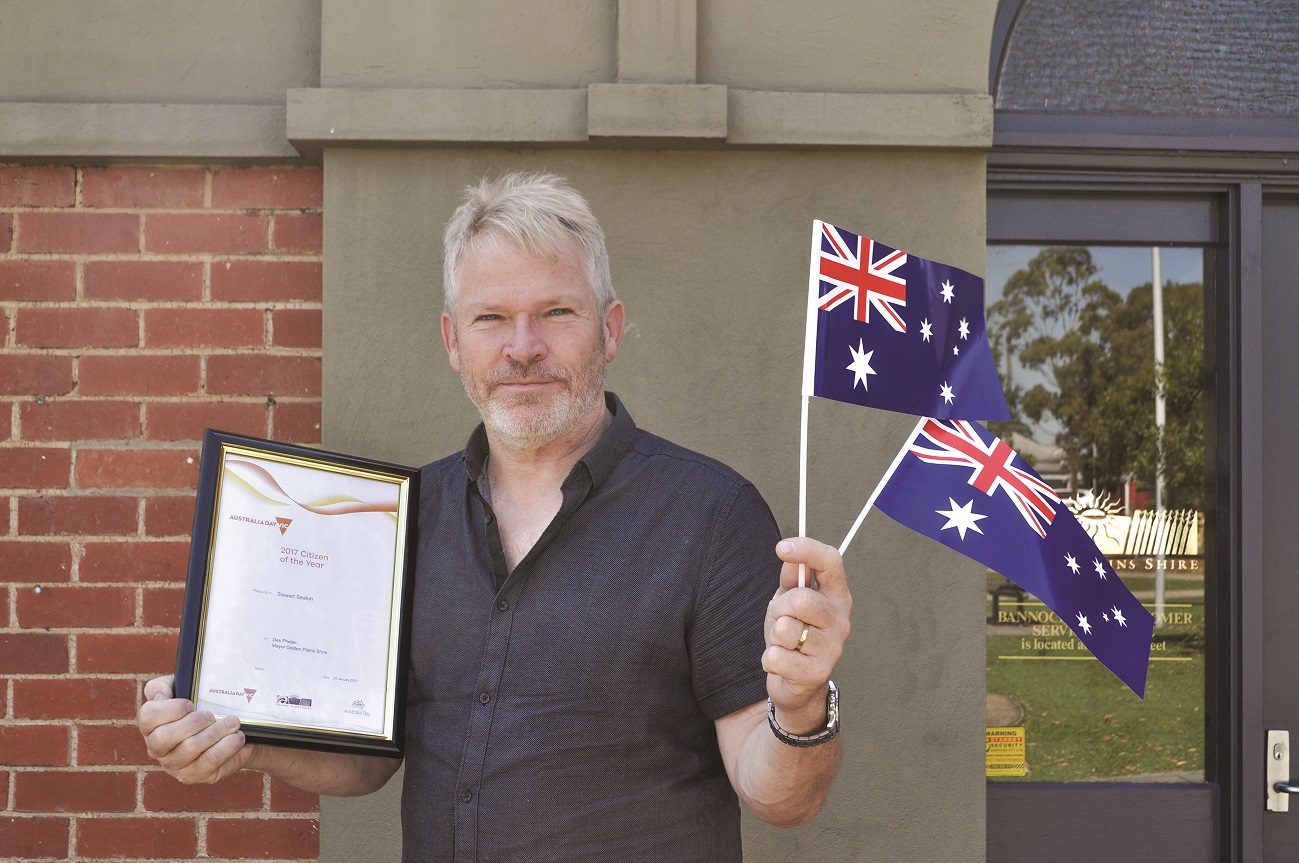 Golden Plains Shire Council is delighted to recognise outstanding members of the community with our 2017 Australia Day Awards.
Mayor, Cr Des Phelan was honoured to present awards to three outstanding citizens and one fantastic local event and the hardworking residents who make it happen at today's Golden Plains Shire Council event.
·         Citizen of the Year for 2017: Stewart Seaton
Stewart received this award in recognition of his years of service to the Teesdale community, including as co-founder of the Teesdale Turtle Bend Events Committee, volunteer and supporter of the Golden Plains Hockey Club and FreeZa, and former member of the Teesdale Primary School Council and the Don Wallace Reserve Committee.
·         Senior Citizen of the Year for 2017: Carmen Powles
Carmen has been involved in almost every community and sporting group in Meredith over many years, including the netball, tennis and golf clubs, church and primary school groups. One of her biggest volunteer jobs is coordinating the local catering for the original Meredith Music Festival over the last 25 years.
·         Young Citizen of the Year for 2017: Katrina Andrensek
As a Bannockburn resident, Katrina has been a valuable member of organizing committees for events including Battle of the Bands, People of Golden Plains and the Youth Lounge Art Mural. Katrina was also a major contributor to the new art mural displayed in the Bannockburn Cultural Centre.
·         Community Event of the Year: Teesdale Twilight Market and Carols
Held on 22 December each year this event attracts around 2,500 people who have a choice of 40 different market stalls. The event is the culmination of many months of planning by the Teesdale Community Events Committee and includes an exciting fireworks display.
 "One of the most rewarding things I do as Mayor is acknowledge outstanding members of our community and reflect on the contributions that so many residents make to our communities," said Cr Phelan.
"The Australia Day Award winners showcase the best of Golden Plains Shire and it is amazing to see the amount of voluntary work by these individuals and all the other nominees.
"Congratulations to all the very worthy award recipients, and thank you for all you do."