Five top spots on the 2018 Arts Trail: North Trail
Date:
Thursday, 8 March 2018 - 1:15pm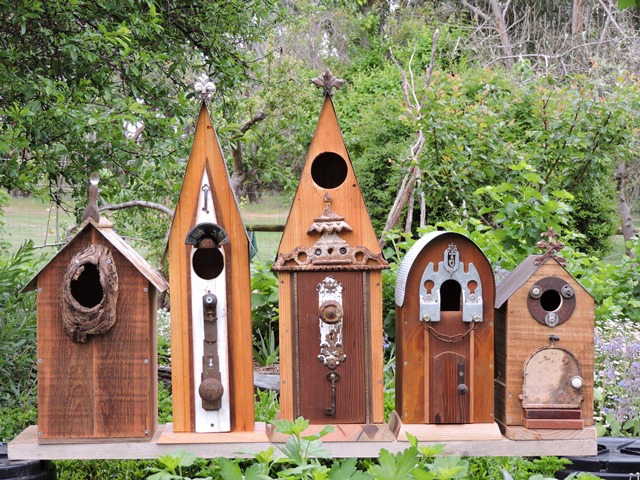 This year's Golden Plains Arts Trail is overflowing with creativity from all corners of the Shire. While all our feature artists and venues offer something unique to the Trail, we have put together a list of Arts Trail highlights for art enthusiasts thinking about visiting the North Trail on 17-18 March.
1. Staffordshire Tiny House
This unique venue will showcase the work of Tony Chalkley, a sculptor, prop-maker, designer and builder, who makes amazing 'tiny houses' – functional homes the size of cubbies! His work is incredible and a must-see on the North Trail.
The Tiny House will also feature the work of Rob Humphrey, an artisan jewellery-maker known for his small, personal and wearable works of art, and the amazing sounds of Leah Humphrey, performance artist.
Visit 581 Staffordshire Reef Road, Staffordshire and learn about the tiny house movement, have a chat with Tony and enjoy all this fabulous venue has to offer.
2. Zen Art Australia Studio
Zen Art is the creative sanctuary of Glynis Bryden, a Dereel-based artist who will exhibit her work on the North Trail. Her garden is key to the display, where a selection of her amazing 3D pieces will be exhibited. This studio will feature a collection of Glynis's drawings – some with paint, some printed – from a number of series. She will also have birdhouses on display and leather-bound books!
Zen Art Australia Studio is located at 10 Russell Street, Dereel.
3. Linton Forge and Print Shop
The old Linton Forge will open its doors to the public for the first time on our North Trail. It's not only one of Linton's oldest buildings, it is complete with original works and equipment!
Visitors can soak up the history, enjoy artist Neil Southerington's creative pieces (including live demonstrations) and have a go at old school papermaking with a vintage machine.
What's more, there is a local café across the road, featuring a number of Arts Trail artists, making Linton a top town on the Arts Trail.
Visit this great venue at 97 Sussex Street, Linton.
4. Woodland Sculpture Park
Here you will find a sprawling green garden that is peppered with fabulous sculptures – the work of Andy Pitlik. Andy's rusted steel sculptures, made mostly with recycled material, will win your heart and capture your imagination – a great one to explore with your family.
Visit the Woodland Sculpture Park, 10 Woodland Drive, Scarsdale for creative works, stunning garden views, wine tastings and live harp tunes.
5. The Courthouse Hotel
The Courthouse Hotel in Smythesdale is getting into the arts spirit on the North Trail. Stop by for a hearty lunch before you head off for an arts adventure in the afternoon. The wonderful sounds of the Ballarat Ukulele Group will fill this historic country pub as you enjoy tasty cuisine. 
The Courthouse Hotel is located at 63 Brooke Street, Smythesdale.