COVID-19 Restrictions Update: 2 June 2021
Date:
Wednesday, 2 June 2021 - 5:30pm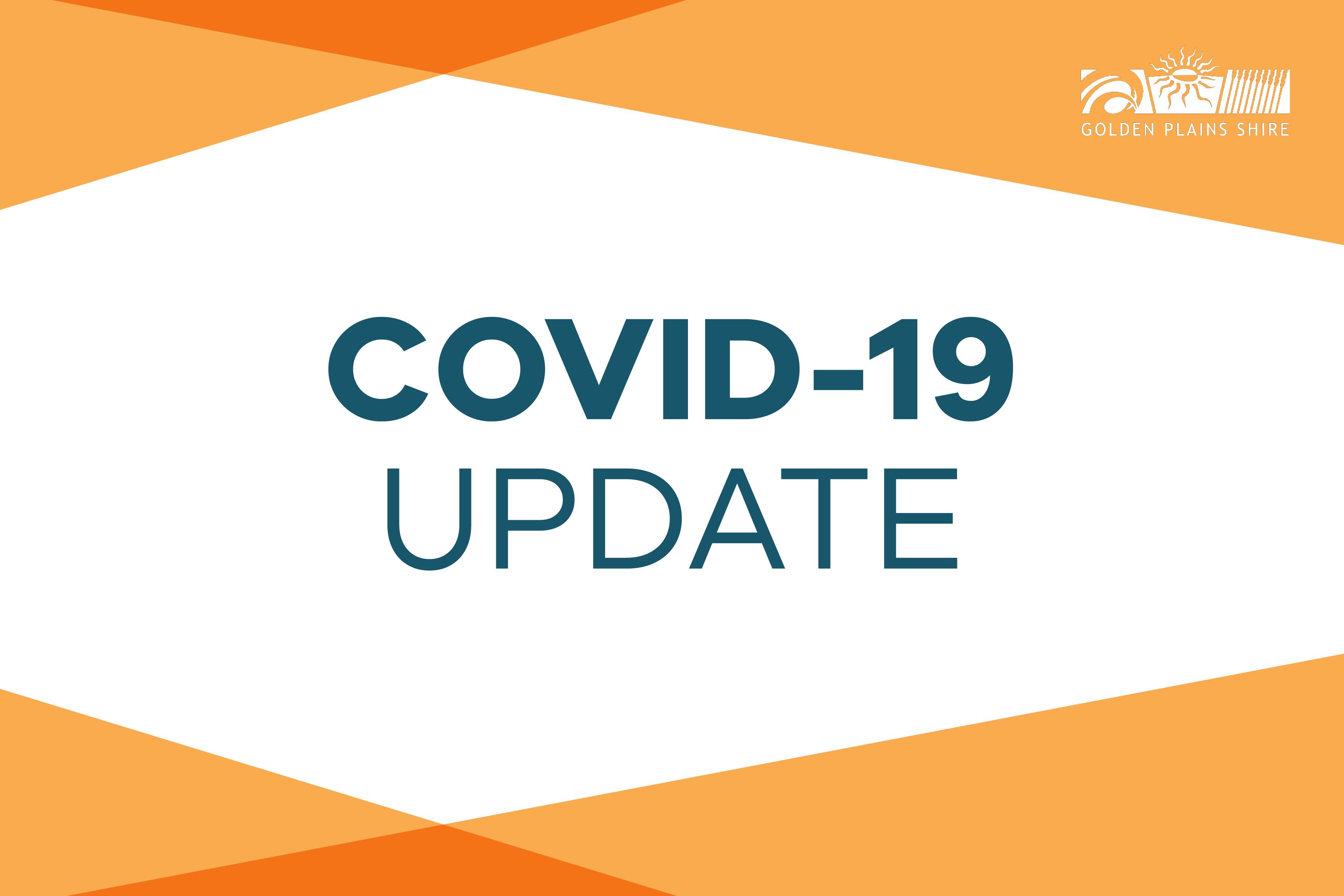 Today, the Victorian Government announced restrictions in regional Victoria, including Golden Plains Shire, will ease from 11.59pm, Thursday 3 June, 2021.
In line with these changes and remaining restrictions, Golden Plains Shire Council will implement a number of changes to its operations.
Essential Council Services
Council's essential services will continue to operate including:
Kindergarten
Family Day Care
Maternal and Child Health
Active Ageing & Inclusion Services
Outdoor Works (working on site)
Recycling and waste collection
Council's Facilities
In line with the remaining restrictions, Council's Customer Service Centres in Bannockburn and Smythesdale will reopen at 8.30am, Friday 4 June. Consultations will be available with staff, including from the Planning and Rates teams.
As per the restrictions, all visitors to a Customer Service Centre will need to wear a face mask, sign in using the QR codes, practice physical distancing and good hand hygiene. Hand sanitiser will be available at each Customer Service Centre.
With restrictions still applying to Melbourne, ratepayers who reside in Melbourne will be unable to visit a Customer Service Centre at this time. The Customer Service team will check IDs, reflecting the Victorian Government guidelines for businesses and restaurants, and Council appreciates the cooperation and understanding of our residents.
Residents and ratepayers are still able to contact the Customer Service Centre over the phone, by email or through the Customer Service Portal on Council's website.
Outdoor playgrounds remained open during the circuit breaker lockdown, and the Rokewood Transfer Station will reopen for its usual hours on Sunday 6 June. A further update on Council's other facilities that are currently closed during the circuit breaker lockdown will be provided tomorrow, Thursday 3 June.
Postponed and cancelled events
Under the remaining COVID-19 restrictions, public gatherings of more than 10 people are not permitted, and the following Council events and programs will not run:
Council's rescheduled in-person engagements for the Northern Streetscape Project on Saturday 5 June will be postponed until a later date to be determined. The survey will still close on 9 June, with community members able to complete it online, by email or by mail. For more information, click here.
Next week's Smythesdale, Inverleigh and Bannockburn Youth Groups are cancelled.
The Golden Plains Farmers' Market scheduled for 5 June is cancelled. In the meantime, don't forget you can contact many of your favourite stallholders through the Golden Plains Virtual Farmers' Market here.
The scheduled Council Meeting next Tuesday 8 June will be held on Zoom, with submitters on the Draft Council Plan, Draft Council Budget and Review of Mayoral and Councillor Allowances able to present virtually. As the meeting will be held over Zoom, members of the public are unable to attend in-person, however, the meeting will be livestreamed on Council's website and YouTube page.
For more information on changes to Council's services, operations and facilities, click here.
Remaining COVID-19 Restrictions
From 11.59pm, Thursday 3 June, residents in Golden Plains Shire will be able to leave their home again for any reason. There are a number of restrictions remaining in place for residents in regional Victoria, while Melbourne will continue to be lockdown.
Face coverings must be carried at all times and worn indoors (except at home), as well as outdoors when 1.5 metres physical distancing cannot be maintained.
Private gatherings are not permitted, and public gatherings are limited to 10 people.
For the full list of remaining restrictions, visit the Victorian Government's Coronavirus website here.