COVID-19 Restrictions Update: 17 February 2021
Date:
Wednesday, 17 February 2021 - 4:30pm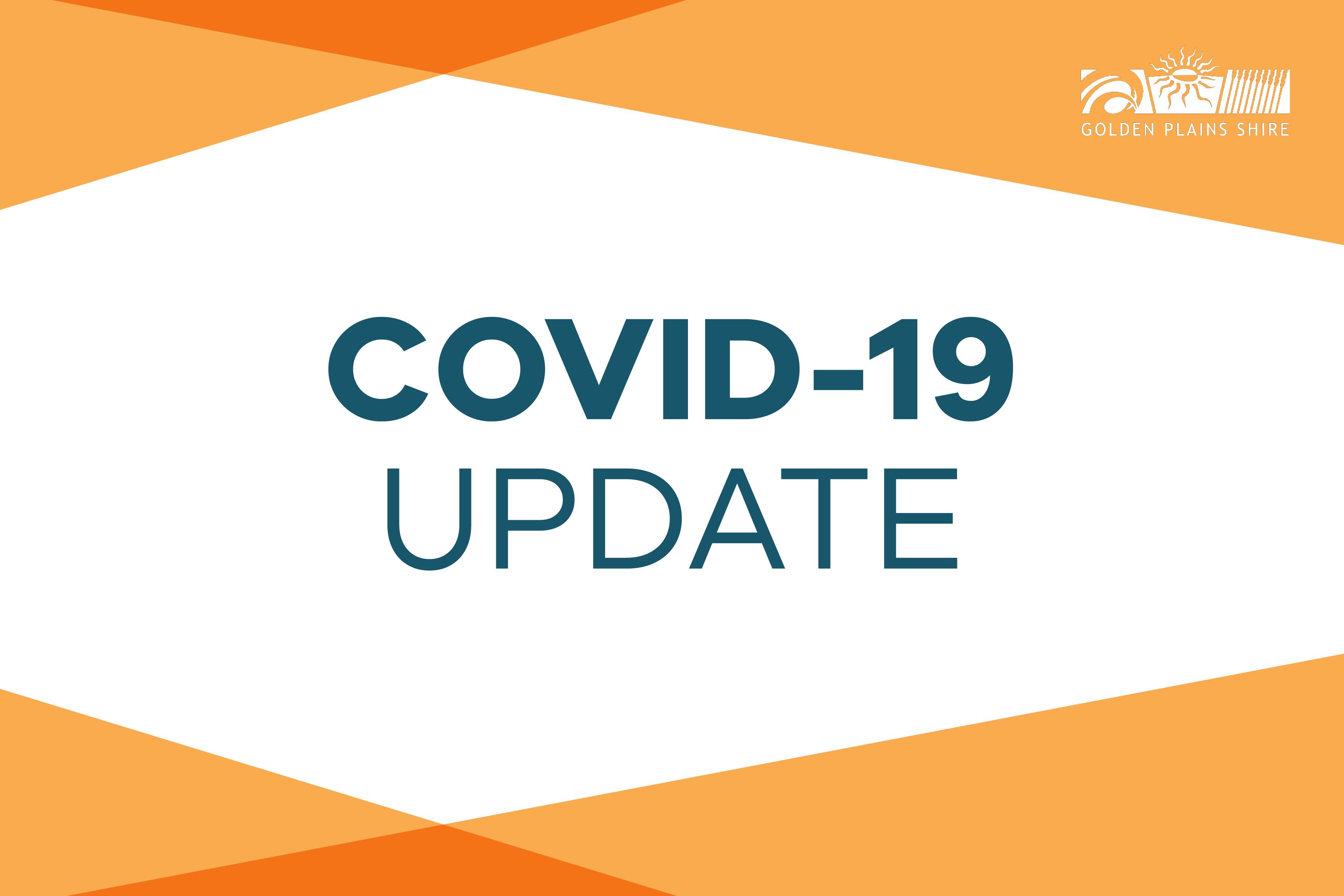 This morning, the Victorian Government announced the lifting of the current Stage 4 lockdown from 11.59pm tonight, Wednesday 17 February, 2021. A number of restrictions will remain in place, and Council encourages all community members to read and follow these restrictions:
No more than five visitors to your home per day
Public gatherings with friends and family limited to 20
Face masks are required indoors except at your home
Face masks are required outside if you can't physically distance 1.5m
50 per cent of office staff can return to working onsite
For the full details of the current restrictions, visit the Department of Health website here.
Following today's announcement, Golden Plains Shire Council is making the following changes to its services, facilities and events:
Services
Customer Service will resume in-person interactions at the Bannockburn and Smythesdale Customer Service Centres from 8.30am tomorrow, Thursday 18 February
Kindergartens, Occasional Child Care, Family Day Care, Maternal and Child Health, Active Ageing & Inclusion Services, Outdoor work and kerbside waste collection all continued during the lockdown.
Facilities
The following facilities which were closed during the lockdown will reopen tomorrow, Thursday 18 February:
Bannockburn Library and Golden Plains Mobile Library
Bannockburn Cultural Centre and The Smythesdale Well community centres
Campgrounds
Outdoor exercise equipment
Outdoor recreation reserves and indoor recreation centres
Skate and bike parks
Water play space at the Bannockburn Heart
Rokewood Transfer Station
All sites will be subject to density limits in line with the remaining COVID-19 restrictions. Visitors should familiarise themselves with these restrictions and remember to practice 1.5m physical distancing and hand hygiene.
The Shire's playgrounds remained open during the lockdown.
Events
Council is running a number of upcoming events and engagement opportunities that will now go-ahead:
Coffee with your Councillors sessions on Saturday 20 February
Bannockburn Skate, Scoot and BMX Clinic and Competition on Saturday 20 February
Golden Plains Farmers' Market on Saturday 6 March
In line with the Victorian Government's guidelines and Council's COVIDSafe Plan, the February Council Meeting scheduled for 6pm, Tuesday 23 February, will remain closed to in-person attendance as planned. The meeting will be accessible to the public through the livestream on Council's YouTube page.
For more information on changes to Council's services, facilities and events, click here.
For the latest health advice, including where to get tested if you are feeling unwell, click here or call the 24-hour hotline at 1800 675 398.