Council recognises amazing Golden Plains women
Date:
Wednesday, 29 March 2017 - 1:45pm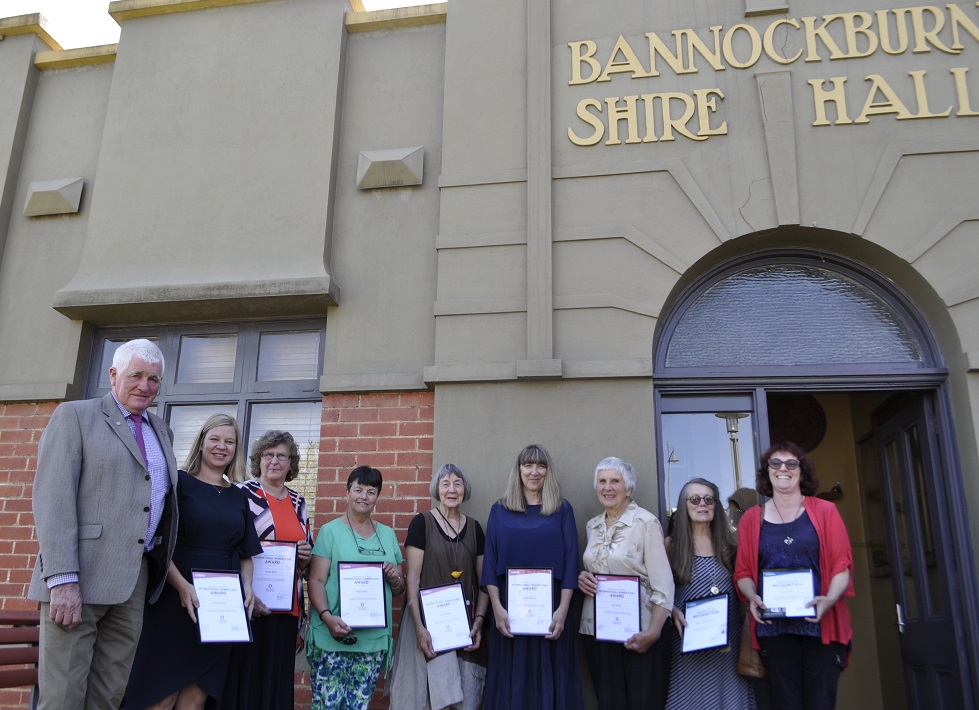 Council recognised six women from Golden Plains Shire on Tuesday 28 March, as part of International Women's Day celebrations.
International Women's Day was held on 8 March around the world—this important event recognises the progression of women's rights and gender equity and sheds a light on what still needs to be done to continue moving forward.
One of the ways Council celebrates International Women's Day is to recognise outstanding local women. Councillors nominated women who are making a difference in the community, so they could be acknowledged formally at Council meeting and presented with Certificates of Recognition. This initiative is the thoughtful creation of former Mayor, Jenny Blake (Golden Plains Shire's first female Mayor), and has been running since 2011. Council has recognised over 30 women as part of International Women's Day celebrations.
The 2017 International Women's Day awardees are as follows:
Lex Stray from She-Oaks
Lex is, and has been, heavily involved in the Maude community. Her roles include (or have included):
Maude Fire Brigade Communications Officer, Community Rabbit Baiting Coordinator, Maude Landcare Committee—Secretary, Maude Recreation Reserve Committee—general member, Maude Ladies' Committee—President… and the list goes.
Dr Fiona Gray from Maude
Dr Fiona Gray is a Research Fellow at Deakin University. Her primary research interest is in the revitalisation of regional and rural towns. Fiona's fantastic work has been recognised widely. She is also a registered architect, with many projects under her belt. Her architectural skills, strong interest in rural development and love of Maude were an incredible combination of assets in the planning, development and construction of Maude's Bunjil Lookout.  Fiona is also actively involved in community planning for Maude/She-Oaks and Steiglitz.
Lyn Dickson from Bannockburn
Lyn is an active community member, talented artist and avid supporter of up and coming artists in Golden Plains. She has been involved with the Golden Plains Arts Trail since its inception. Her late husband David was also driving force behind the Trail and many other arts projects in the Shire. The Arts Trail now attracts over 2,000 visitors which is a credit to the original organisers, including Lyn.
Lindy Allinson from Steiglitz
Lindy is one Golden Plains Shire's key history and heritage advocates. She spearheads the Back to Steiglitz Association, which achieves many great things—namely the annual Back to Steiglitz day, which raises vital funds to preserve the town's historic buildings. One of Lindy's main passions has been to advocate for the relocation of the old Steiglitz school building—she has worked tirelessly with all levels of government to support this effort.
Patti Evans from Bannockburn
Patti is an exemplar senior citizen, strongly involved in assisting elderly members of the Golden Plains community to stay connected and active.  She helps run community activities, like soft tennis and other gentle exercise suitable for older residents. The programs and activities Patti is involved improve older adults' quality of life—she is a true asset to Golden Plains.
Gwen Mills from Rokewood
Gwen has provided over 24 years of volunteer work in the community. This includes involvement in the Rokewood RSL as well as the Seniors' Group, Walking Group and Tennis Club in Rokewood. Gwen also contributes her time as a volunteer driver for our community transport program, which provides an invaluable service, helping residents get to activities, events and appointments they would not otherwise have access to.
On behalf of Golden Plains Shire Council, congratulations to these six women for their incredible efforts in making Golden Plains a better place.