Council Plans to Ease COVID Restrictions
Date:
Friday, 29 May 2020 - 5:30pm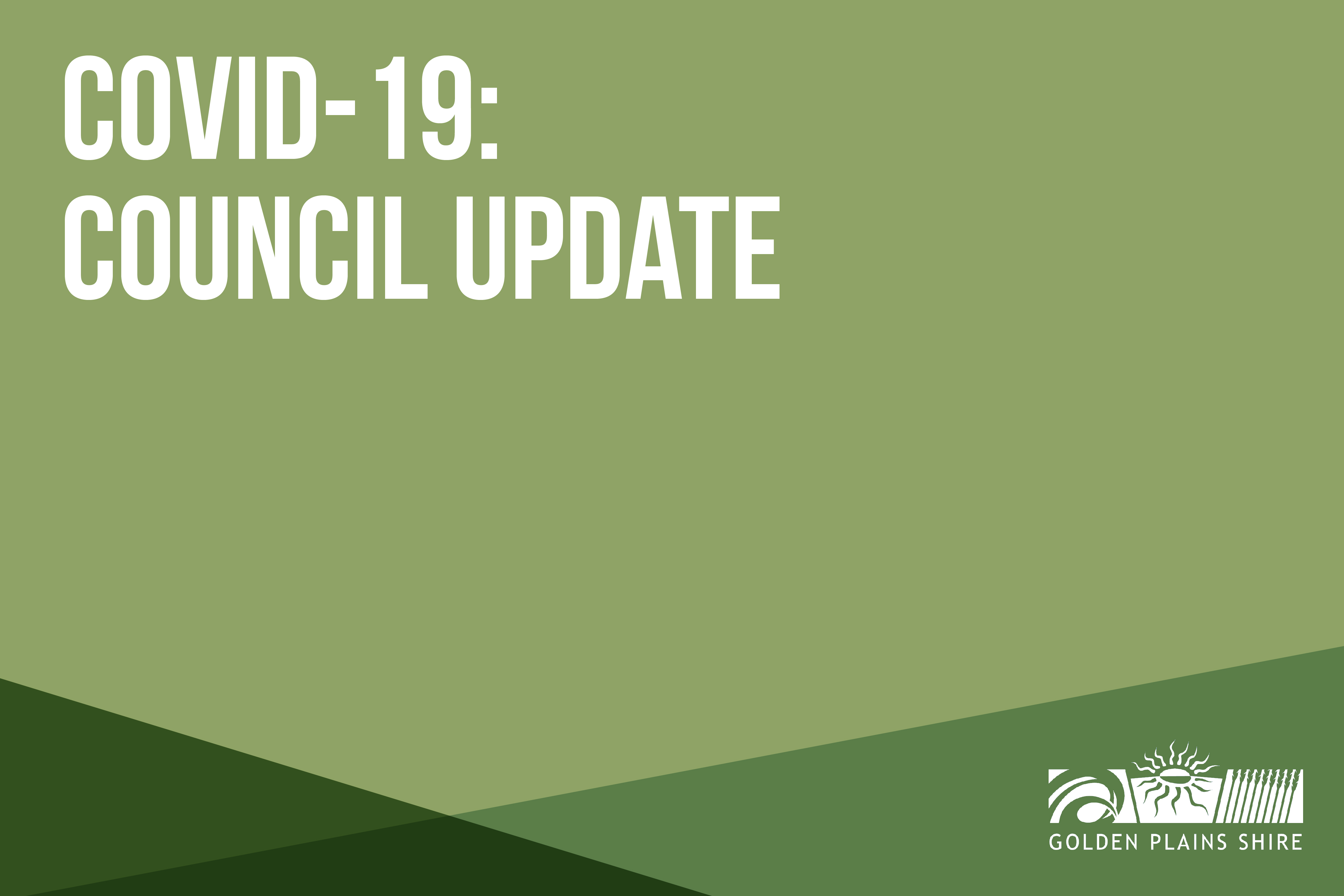 Following the Victorian Government's announcement on Sunday 24 May regarding the easing of COVID-19 restrictions, Council is planning the reopening of a number of facilities and services in Golden Plains.
Campgrounds in Golden Plains Shire
The Victorian Government has advised that campgrounds can reopen next week, with gathering limits to apply. The following back country camping locations in Golden Plains Shire meet this criteria and will be reopened on Monday 1 June: Inverleigh – Leigh River South, Pollocksford Bridge, Bunjil Lookout, Smythesdale Public Gardens and Haddon Lions Park. The public toilets will be open at or near these locations however, in line with current restrictions, shared facilities including BBQs will not be available. For detailed information on the Victorian Government's directives, visit dhhs.vic.gov.au
Libraries in Golden Plains Shire
The Bannockburn Library will reopen with shorter operating hours from Tuesday 9 June, with normal hours to resume from Monday 6 July. The mobile library will resume its full service from Tuesday 9 June, with all scheduled visits as usual, allowing for possible short delays due to a new cleaning protocol following every stop.
With the health and wellbeing of the community and staff the top priority, social distancing, visitor number restrictions and strict hygiene protocols will apply. For full details, visit the Geelong Regional Libraries Corporation website: grlc.vic.gov.au
Community Centres in Golden Plains Shire
The Victorian Government has advised that community centres can reopen from next week, with a maximum of 20 people in a single space. Council is finalising a plan to welcome back community groups to the Bannockburn Cultural Centre, The Well in Smythesdale and Meredith Community Centre for the allowed activities from Tuesday 9 June. Some programs including exercise and group training classes are still restricted under the Victorian Government guidelines at this time. Social distancing and health and hygiene practises will be in place, with additional cleaning protocols at the centres. Individuals or community groups with questions about booking the centres can call Council at 5220 7111.
Playgrounds, Skate and Bike Parks, and Recreation Locations
All outdoor playgrounds, skate parks and bike parks were reopened for play in Golden Plains Shire on Tuesday 26 May, 2020. In line with Victorian Government advice and in the interest of ongoing public safety, social distancing recommendations and gathering limits are still in place. This week, Council progressively removed the closure signs posted at outdoor playgrounds, skate parks and bike parks. At each stop, Council officers inspected the outdoor equipment and surrounds, logged any maintenance works, cleaned rubbish, and removed the closure sign.
On 15 May, Council reopened other popular recreation locations in Golden Plains Shire when a list of recreational and sporting activities were given the green light to resume across the State including outdoor group fitness, tennis, bowls, golf, equestrian activities, fishing and boating.
Rokewood Transfer Station
The Rokewood Resource Recovery Centre will reopen on Sunday 31 May, following its closure in March, as part of Council's response to the COVID-19 pandemic. In line with Federal and State Government guidelines, social distancing and health and hygiene practises will be in place at the site. Customers are strongly encouraged to pay by card, however cash payment will be accepted. The Rokewood Resource Recovery Centre is open from 10am to 3pm, every Sunday. Council's waste collection service has continued unchanged throughout the COVID-19 pandemic. For a full list of accepted items and cost of disposal, visit goldenplains.vic.gov.au/rokewood-resource-recovery-centre
Council Closures and Changes to Services
Council's Customer Service Centres in Bannockburn, Smythesdale and Linton remain closed to face-to-face interactions. There are alternative arrangements in place for the safe delivery of many Council services, including home and community care, maternal and child health, and immunisation. For more information on changes to Council's services during the COVID-19 pandemic, please call 5220 7111 or visit goldenplains.vic.gov.au/coronavirus