CHOOSE WATER THIS SUMMER
Date:
Wednesday, 23 January 2019 - 2:00pm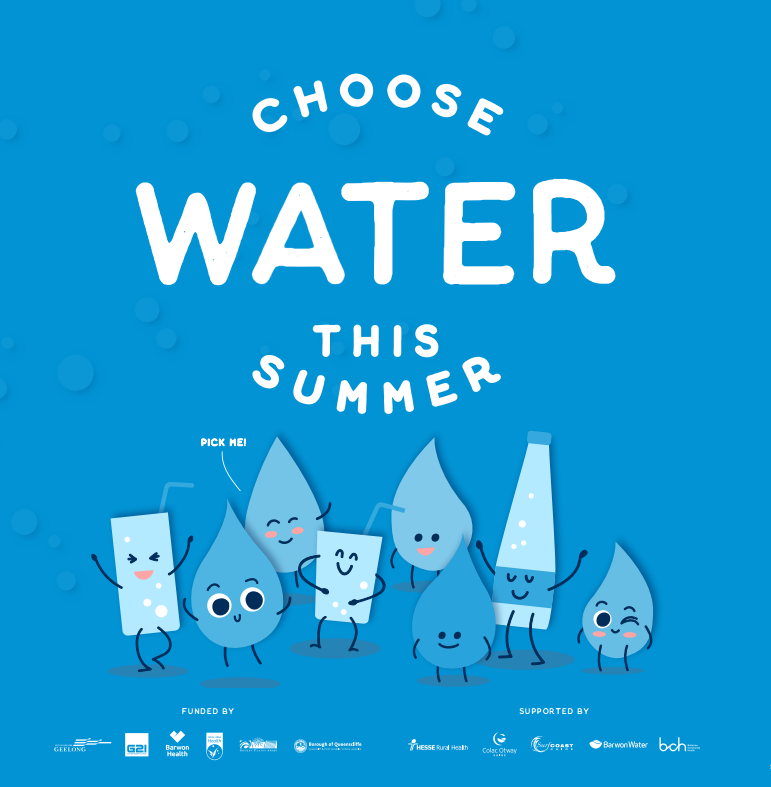 Did you know water is essential for brain function and physical performance?
Golden Plains Shire Council, as part of the G21 Geelong Regional Alliance, is encouraging residents to Choose Water This Summer.
The health campaign aims to increase water consumption across the Golden Plains, Colac Otway, Greater Geelong, Queenscliffe and Surf Coast municipalities, which has approximately 324,00 people.
In making water the drink of choice this sunny season the campaign hopes to decrease the consumption of sugary and sweetened beverages.
As well as drinking water, the G21 Health and Wellbeing Pillar wants to promote regular physical activity and healthy eating habits in South West Victoria.
WHY IS WATER BEST?
Water is the best choice for keeping the body hydrated. It has no added sugar, no kilojoules and is not fizzy, so is much better for your teeth and the waistline. Soft drinks are highly acidic and this, along with high levels of added sugar, can damage teeth and lead to tooth decay.
Drinking soft drinks and other drinks with added sugar, can lead to putting on excess weight or becoming obese, and this may increase the risk of developing type 2 diabetes, heart disease and some cancers (ABS 2014).
Keeping the body hydrated is essential for good health. Dehydration can lead to feelings of tiredness, thirst, weakness, lethargy, the senses become weak and psychological reaction times will be impaired.
REMEMBER
Choose water this summer
Water is the healthiest option
Stay healthy, stay hydrated
If you are concerned about your weight or wanting to stay at a healthy weight, every soft drink you drink adds excess kilojoules. Swap from soft drink to water to reduce your kilojoules to zero!
Drink water to look after your teeth. Soft drinks are acidic and can cause tooth decay. Diet soft drinks are just as acidic, therefore have the same effect on tooth decay. Choose water to keep your healthy glowing smile!
Hydration helps improve energy levels and brain function.
Save money – water from the tap is free so every time you choose water you save money!
Water helps to maximize physical performance - water is the best drink for re hydrating while playing all sport activity lasting less than 90 minutes.
NEED TO KNOW MORE?