Building Bridges in Golden Plains
Date:
Wednesday, 5 February 2020 - 4:15pm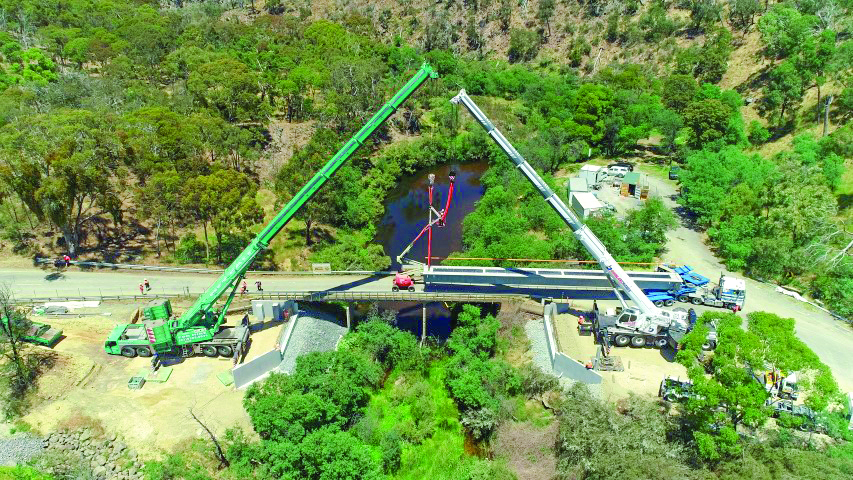 Home to a remarkable total of 138 bridges, Golden Plains Shire Council faces an ongoing challenge to replace and maintain important local bridge and major culvert infrastructure across the Shire.
In 2020, four key bridge replacement projects in Meredith, Inverleigh, Teesdale and Napoleons will make driving the scenic roads of Golden Plains Shire safer and smoother for all residents and visitors.
The following bridge projects are now underway:
Wall Bridge, Teesdale
Works are ongoing to replace the existing 99-year-old timber structure spanning Native Hut Creek on Stones Road with a new single lane concrete structure featuring a wide footbridge for pedestrians with a safety rail. Council secured a Federal Government grant for $303,500 to partner in delivering the project. The original Wall Bridge will be honoured with a special interpretative sign, erected on timber recycled from the former structure.
Coopers Bridge, Meredith
Construction is well underway on this significant $1.6 million project, which will deliver a new two-lane bridge spanning the Moorabool River, as well as new approaches linking the new bridge with the existing road.
The State Government's Fixing Country Roads program will contribute $300,000 to the project with Council funding the remainder of the project in the 2018/19 and 2019/20 Budgets. Works on the new bridge are expected to be completed mid-2020.
Barwon Park Road Bridge, Inverleigh
With the old bridge showing signs of structural distress, the deck of the Barwon Park Road Bridge is being widened and replaced. Council shares responsibility for this bridge with Surf Coast Shire; and of Council's $310,000 commitment, $110,000 was allocated from the Federal Government's Roads to Recovery Program. Please note that the planned February to April closure of the bridge has been rescheduled to a later date.
Franklin Bridge, Napoleons
A $3.6 million project to replace the Franklin Bridge in Napoleons will become a reality in 2020. A shared asset, the new bridge is a partnership project with the Federal Government and City of Ballarat; with Golden Plains Shire Council contributing $575,000.
In September 2019, Councillors allocated $200,000 to review and investigate future bridge upgrade projects, with preliminary work conducted in late 2019 on the following local bridges: Slate Quarry Road in Meredith, Russells Bridge Road in Russells Bridge; and Geggies Road and Reserve Road  bridges in Rokewood.