Big win at fire awareness awards
Date:
Friday, 8 December 2017 - 11:45am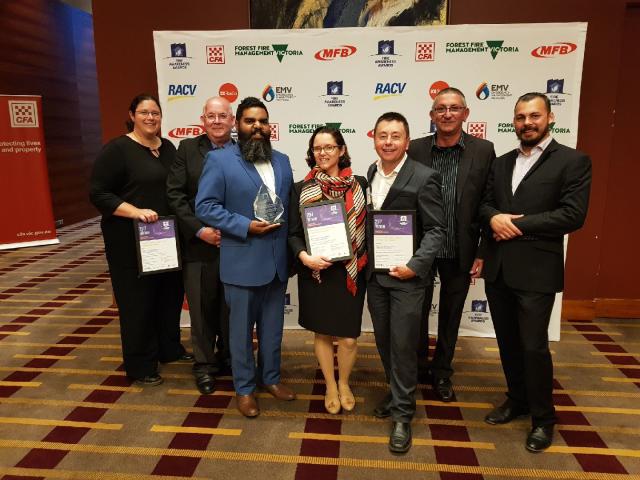 Golden Plains Shire Council was part of a working group for a Traditional Owner burning project that has taken out the prestigious 'Government and Industry Partnership Award' at the 2017 Fire Awareness Awards.
This awards program recognises projects that help reduce the incidence and impact of fires in Victoria.
'Wiyn-murrup yangarramela – fire spirit comes back' is the name of the now, multiple award winning project. Earlier this year, the project was also dubbed winner of the Rio Tinto Indigenous Land Management Award at the 2017 Victorian Landcare Awards.
The Working Group included Corangamite Catchment Management Authority, Wathaurung Aboriginal Corporation (Wadawurrung), Wathaurong Aboriginal Cooperative, DELWP, CFA, Parks Victoria, Glenelg Hopkins Catchment Management Authority and Golden Plains Shire – what a partnership!
Wiyn-murrup yangarramela brought together Traditional Owners, members of the Aboriginal community, Catchment Management staff, government agencies, CFA, Parks Victoria and other interested parties. The project demonstrated Traditional Owner burning on a Council reserve in Teesdale in April this year. The event allowed the sharing and learning of Traditional Owner burning techniques and understandings, and was considered a great success in reintroducing Aboriginal burning practices on Wadawurrung Country.
The Award was presented to the working group at the 2017 Fire Awareness Awards ceremony at the RACV City Club in Melbourne on 4 December, with Council represented by our Natural Resources Officer Dale Smithyman, who was part of the working group (well done Dale).                                                
Wiyn-murrup yangarramela was funded through the National Landcare Program and delivered by Corangamite CMA. The Fire Awareness Awards are a joint initiative of Forest Fire Management Victoria, the CFA and MFB. The Awards are supported by Emergency Management Victoria and the RACV.
What's special about Traditional Owner (Aboriginal) burns?
Aboriginal traditional burning connects Aboriginal people with culture and contributes to the healing of Country and People. The reintroduction of traditional burning is also associated with employment of Aboriginal people in this important part of the State's fire management program. Furthermore, these burns are generally cooler and patchier than other forms of burning, so we are left with more ground cover and germinating native plant seeds as well as refuges for local fauna.