Better Skate, Play and BMX for Meredith
Date:
Monday, 24 May 2021 - 4:45pm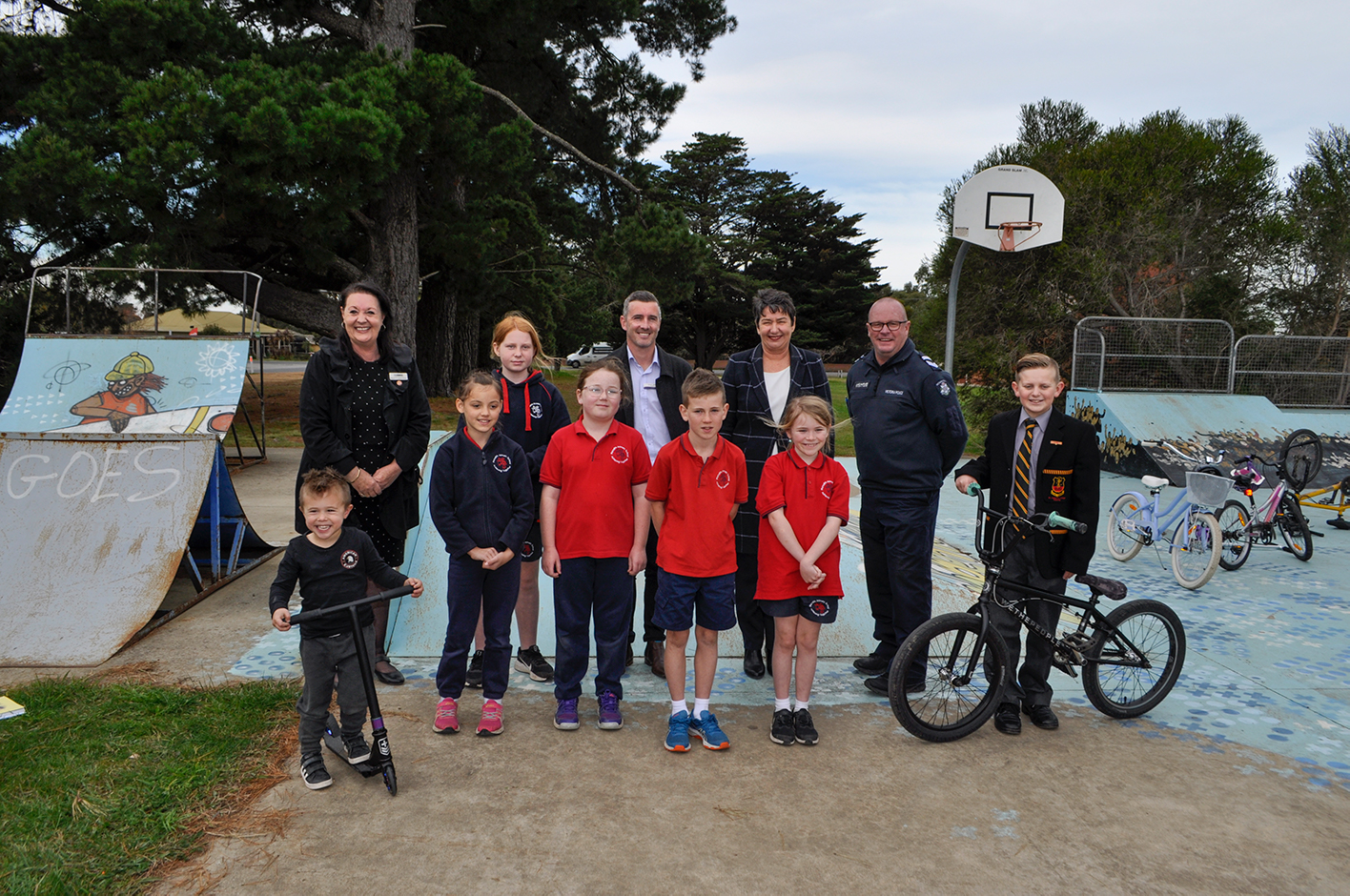 It was a sunny day for exciting news at the Meredith Skate Park today and Mayor Cr Helena Kirby joined Member for Buninyong Michaela Settle MP for the announcement: $420,000 from the Victorian Government to fund new BMX trails, and upgrade of the skate park and play space.
The project will activate the Meredith Recreation Reserve with safe and compliant active recreation and play facilities, improving recreational opportunities for young people and their families in Meredith.
At the announcement, both Mayor Cr Kirby and Michaela Settle credited two young residents of Meredith with the idea for the project. Keen local 12-year-old BMXers, Harley Murfitt and Max Love, wanted to see improvements at their local skate park and took their idea to Meredith Primary School Principal Stephen Trotter and Leading Senior Constable Craig Malthouse. Their upgraded skate park design was presented to Council, who awarded Harley and Max Mayoral Youth Awards last year, and advocated to the Victorian Government to make a commitment to the project. Today's announcement was the exciting next step for making their dream a reality.
Mayor Cr Helena Kirby says the announcement is proof that a great idea and community support can deliver impressive results.
"Council is proud to have supported and encouraged local young people to bring their idea to life. We thank the Victorian Government for its commitment to build a new BMX track and upgrade the play space and skate park in Meredith."

"For a number of reasons, young people from rural areas can experience increased rates of isolation and loneliness. Community assets like those we will build here in Meredith provide valuable opportunities for young people to be socially and physically active which we know contributes to healthier, happier and better-connected young people."
Quotes attributable to Member for Buninyong Michaela Settle:
"It's fantastic to see that a project initiated by Meredith Primary School students will be brought to life thanks to $420,000 from the Victorian Budget."

"Skate Parks and BMX tracks are a great outlet for young people, they encourage both physical activity and strong social connections which will bring great benefit to the whole community."

"I want to thank Harley, Meredith school principal, local police officer and Golden Plains Shire for backing in the idea to update recreational facilities for young people in Meredith."
Golden Plains Shire Council has allocated $50,000 in its Draft Budget 2021/22 to complete the detailed design of the project, with the Victorian Government's contribution to deliver construction of the upgrade.
Pictured above (back): Mayor Cr Helena Kirby, Meredith Primary School Principal Stephen Trotter and Michaela Settle MP, Leading Senior Constable Craig Malthouse, with local Meredith children including Harley Murfitt (right, front with bike).