Bannockburn Soccer Pavilion officially opened
Date:
Monday, 4 September 2017 - 12:15pm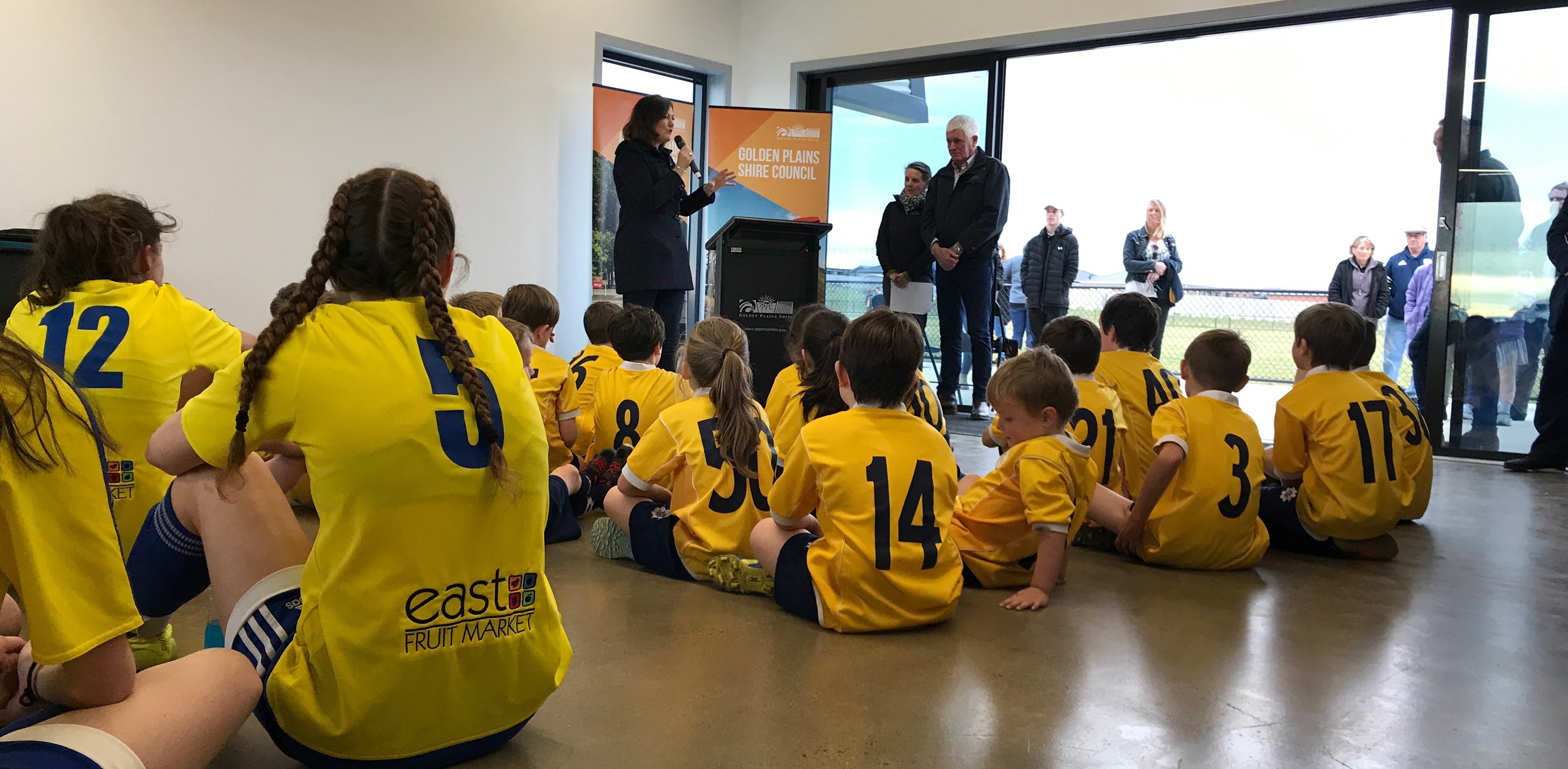 Bannockburn's new soccer pavilion was officially opened on Saturday 2 September, and is set to provide a boost to Golden Plains Soccer and Hockey Clubs.
Mayor Cr Des Phelan joined Federal Member for Corangamite Sarah Henderson MP and soccer club President Anthony Vanjek to open the facility.
"Just two years ago we were here opening Golden Plains Shire's first purpose-built soccer pitch complete with pitch lighting," said Cr Phelan.
"When I look around, I'm amazed at the progress of the recreation precinct in that time, now including our almost completed P-12 Bannockburn College.
"The new Soccer Pavilion is a great addition to the Precinct, providing a modern facility with great amenities for mens', womens' and junior soccer, which of course is one of the world's most popular sports.
"The Soccer Pavilion project involved the construction of this great facility, including accessible male and female changerooms, a first aid room and kitchen facilities.
"Sport and Recreation Victoria and the Federal Government contributed $100,000 each to this project and Council contributed the remainder.
"With the Federal government's $100,000 funding, we were able to add a commercial quality kitchen, fencing and coaches' boxes to the project."With the Pavilion being recently completed, it is now being well utilised by the community.
"Soccer has undergone huge growth in our Shire, and Golden Plains Soccer Club is now stronger than ever, with over 100 junior players and over 50 senior players - congratulations to the Golden Plains Soccer Club's excellent efforts and management which has led to this growth.
"As a Council we know that community clubs need great infrastructure, with the Club now having a great base for players, supporters and visitors. We hope these great facilities will also encourage women and girls to take up the sport
"Golden Plains Shire Council is delighted to support the growth of soccer in the Shire and we will continue to work with the community to create more sporting opportunities for residents.
"This Pavilion provides an identity and home for the Club and we're proud to have supported it with our funding partners Sport and Recreation Victoria and the Federal government.
"Thank you to everyone who helped get this project off the ground – and provide residents with opportunities to keep fit, build friendships and feel part of a team, which helps make Golden Plains Shire an even better place.