Australia Day Awards nominees acknowledged for their excellence
Date:
Monday, 12 February 2018 - 10:45am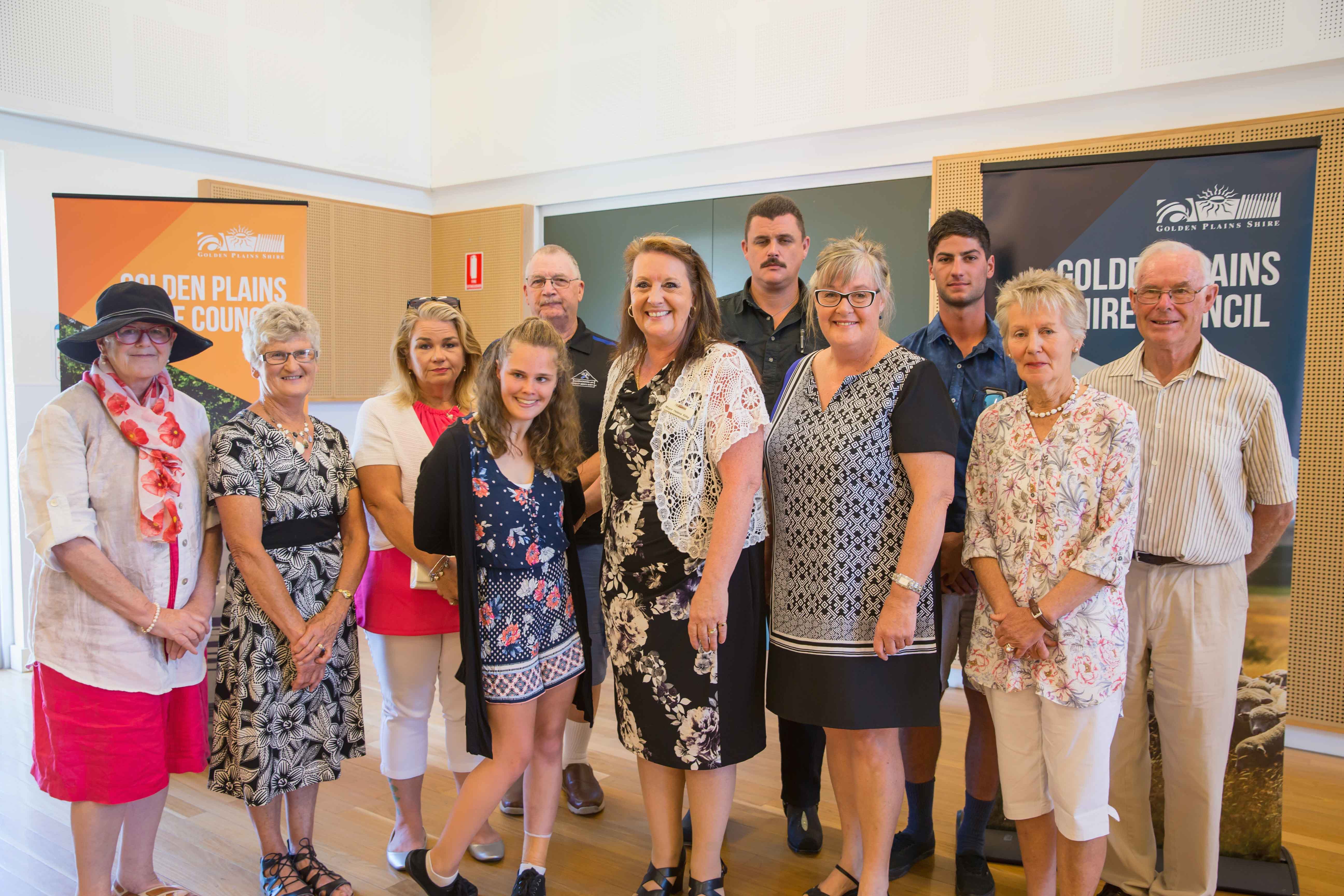 Council announced the winners of the 2018 Australia Day Awards on Tuesday 23 January, but a number of outstanding nominees were also acknowledged on the day, even if they missed out on the win.
Citizen of the Year nominees
Winner: Margaret Cooper (find out more)
Jenny Sewell
Jenny Sewell, an Inverleigh resident, volunteers for the Inverleigh Kindergarten Parent Committee, Inverleigh Scouts, Inverleigh Primary School Parent Committee, Inverleigh Cricket Club and Inverleigh Football Club. Jenny's nominator indicated Jenny's work within these groups has been 'significant'.
Jenny's role with the Inverleigh Scouts, who have unfortunately ceased operation, involved management of all finances and administration.
As the Cricket Coordinator for all Junior Cricket in Inverleigh, Jenny has promoted the program extensively and coordinated the teams and fixtures weekly. Jenny also ensures all the kids and parents enjoy an evening meal at each match.
Jenny is currently the president of the Inverleigh Primary School Parents and Friends Association. She has introduced an online lunch ordering system along with many fundraising initiatives.
Jenny is an exemplary citizen and Golden Plains Shire Council is very proud of her and her dedication to the community.
Lyall Reeves
Lyall was nominated for his ongoing commitment to the Golden Plains community, which includes a number of years of dedicated service to the editing of the Bannockburn News publication – he is passionate about keeping the community informed with valuable and relevant news.
Over the years, he has shown dedication to the Bannockburn CFA, been the Principal of the Bannockburn Primary School and gained a reputation for being an 'utter gentleman' (according to his nominator).
Bannockburn is a strong, growing and vibrant community because of dedicated residents like Lyall Reeves.
Senior Citizen of the Year nominees
Winner: Dianne Moylan (find out more)
Mary Nicholson
Mary Nicholson, a Haddon resident, is a 'community-minded individual who goes out of her way to assist others' as stated in her nomination. She and her husband John have been active members of the Haddon Lion's Club for many years, which supports the local community in a number of ways. Through her work in the Club, Mary assists projects, such as the annual White Elephant Sale, Australia Day breakfasts, Anzac Day services, numerous BBQs in the Shire at different events, gardening, clearance of rubbish and much more.
For two years, Mary volunteered at the Haddon Primary School, where she worked with special needs children on a weekly basis.  She also assists her neighbours with meals, cutting wood or doing wood deliveries and child-minding, and makes a special visit to welcome new families to the area.
Mary and John also volunteer weekly for 'Meals on Wheels' deliveries in Ballarat, and Mary's nominator said she is 'always willing to step in and lend a hand – nothing is too much trouble'.
Mary is an incredible resident, whose big heart and hours of volunteer work have helped, and continue to make Golden Plains a better place.
Bennita Hough
In Bennita's nomination, it is stated that she 'is a loving, kind person who never stops giving, even though she is very unwell'. Despite having serious health difficulties, she continues to do at least one two-hour shift with Lifeline per week.
She also continues to host a foster child regularly on weekends and school holidays and serve as Secretary of the Linton Men's Shed, where she is actively involved with monthly lunches, fundraisers and applying for funding towards a permanent home building.
Bennita was a community nurse with Golden Plains Shire Council until she retired, helped establish a Men's Shed at Dereel and has been involved in a number of community projects.
She has been a foster parent for many years, where she cares for young babies.
Congratulations to Bennita, a wonderfully dedicated citizen of Golden Plains Shire.
Geoffrey Wild
Geoff is a Teesdale resident who has devoted a lot of time to different organisations and community groups over the years. When his children were at primary school he was a member of the Teesdale School Council and Teesdale Cubs and Scouts.
As a Teesdale Community Coordinator, Geoff was responsible for acquiring two community notice boards (one at the school and in the car park near the shop). He has also worked hard negotiating for a bike path between Teesdale and Bannockburn and worked tirelessly for a Men's Shed in Bannockburn.
He loves getting involved in the community and has attended many of the workshops provided by Golden Plains Shire Council, that are relevant to his work on the committees he is on.
Geoff's nomination indicated he is a member of Inverleigh Leigh Valley Lions Club (10 years as President); member and President of Bannockburn Men's Shed, Teesdale Community Coordinator; member of the Grassy Woodlands Committee; and Secretary, Treasurer and Events Organiser of Teesdale Community Events Committee.
Geoff well and truly deserved his nomination for a 2018 Senior Citizen Award.
Young Citizen of the Year nominees
Winner: Kaitlyn Schurmann (find out more)
Trystan Sammut
Trystan is a Haddon resident who demonstrated a commitment to excellence in 2017. His nominator indicated that he has 'contributed enormously over the past two years to the Worldskills community and to the Bricklaying trade'.
Trystan achieved a gold medal at the National Worldskills event in 2016 and a bronze medal at the International Worldskills event in Abu Dhabi in October 2017. In Trystan's nomination, it was stated that 'Trystan works hard every day and travels to work daily to work on commercial building sites, where he provides support and encouragement to young tradies newly entering the field of Bricklaying'.
Trystan completed his primary education at Haddon Primary School before attending St Patrick's College, where he received a number of awards for academic excellence. He has played football since he was very young, winning a premiership a few years ago with East Point Football Club.
Trystan completed his Bricklaying apprenticeship through Brendan Williams Bricklaying and studied through Federation University.
Golden Plains Shire Council congratulates Trystan on his outstanding efforts.
Community Event of the Year nominees
Winner: Linton Town Wide Garage Sale (find out more)
Parkrun Bannockburn Bush
Bannockburn's Parkrun event is a fantastic community-led activity, held weekly.
Amongst its many outcomes, it has allowed people to meet and make friends; helped strengthen social connections; created an opportunity for families to participate together and bond; promoted exercise in the community and created an atmosphere where locals encourage, support and celebrate each other.
The event has also played a part in improving community wellbeing, strengthening Golden Plains' tourism offerings and generating business for local businesses.
The Parkrun launch was a highly successful event, with 250 sign-ups, mostly from Bannockburn and Teesdale, with a minority coming from the Geelong area. It engaged people as young as six through to 71 years of age. Since the launch, on average, five new members sign up each week.
It should be noted that this event was supported by Golden Plains Shire Council via a Community Grant, with Cr Owen Sharkey one of the driving forces behind this fantastic community event.
Congrtaulations to everyone involved in making this event as great as it is.
Linton Primary School 150th Anniversary Celebration
The Linton Primary School was established in 1857 and the current staff and parent body felt it was important to mark its 150th anniversary with a large-scale celebration. What they organised wound up being a truly special event, providing an opportunity for past and present students, families and local community members to come together in a fun and positive environment to reminisce, revisit memories and create new ones.
According to the nominator, over the anniversary weekend, 'in excess of 300 people came to visit the Linton township, bringing excitement, vibrancy and dollars to the town, local businesses and community groups'. People travelled from as far as Western Australia and Queensland to attend. 
The nomination said this event went beyond a reunion for the school and became a 'town celebration' thanks to the extensive involvement of local community groups, businesses and other volunteers. It took almost two years of planning to bring this event to the community.
A small working group headed the planning and organisation of the event, with further support received from Linton Primary School students and staff, Linton Primary School Parents and Friends Committee, Linton Progress Association, Linton Community Coordinators, Linton & District Historical Society, Linton Cemetery Trust,  Linton CFA, Linton Cricket Club, Carngham Linton Football Netball Club, Linton Men's Shed, Linton Bowls Club and the businesses in the main street of town.
A huge community-wide effort resulted in one of Golden Plains Shire's best community events of 2017.
Rokewood Rodeo
The Rokewood Rodeo took place on Saturday 25 November last year and was a huge success, giving thousands of visitors access to a fun rodeo event, where there was something for the whole family. Patrons enjoyed a variety of events, including bareback bronc and bull riding, live music by the Screaming Eagles, free camping and an alcohol-free kids' zone sponsored by Golden Plains Wind Farm.
The Rodeo involved countless hours of planning and delivery, led by Jacquie Terry, Events Manager, who took the reins to manage one of Rokewood's biggest events of the year.
The 2017 Rokewood Rodeo allowed local community groups to gather donations for their causes and charity work. The nominator advised the Men's Shed, RSL, Fire Station and schools all benefitted from the 2017 event.
The nominator also said the Rokewood Rodeo 'is a great event the Shire needs' and Council agrees – Golden Plains Shire locals and visitors have access to such a diverse range of events, thanks to the dedication of local volunteers, such as the Rokewood Rodeo Events Committee. Congratulations to everyone involved.