2020 Australia Day Award Winners Announced
Date:
Tuesday, 28 January 2020 - 6:45pm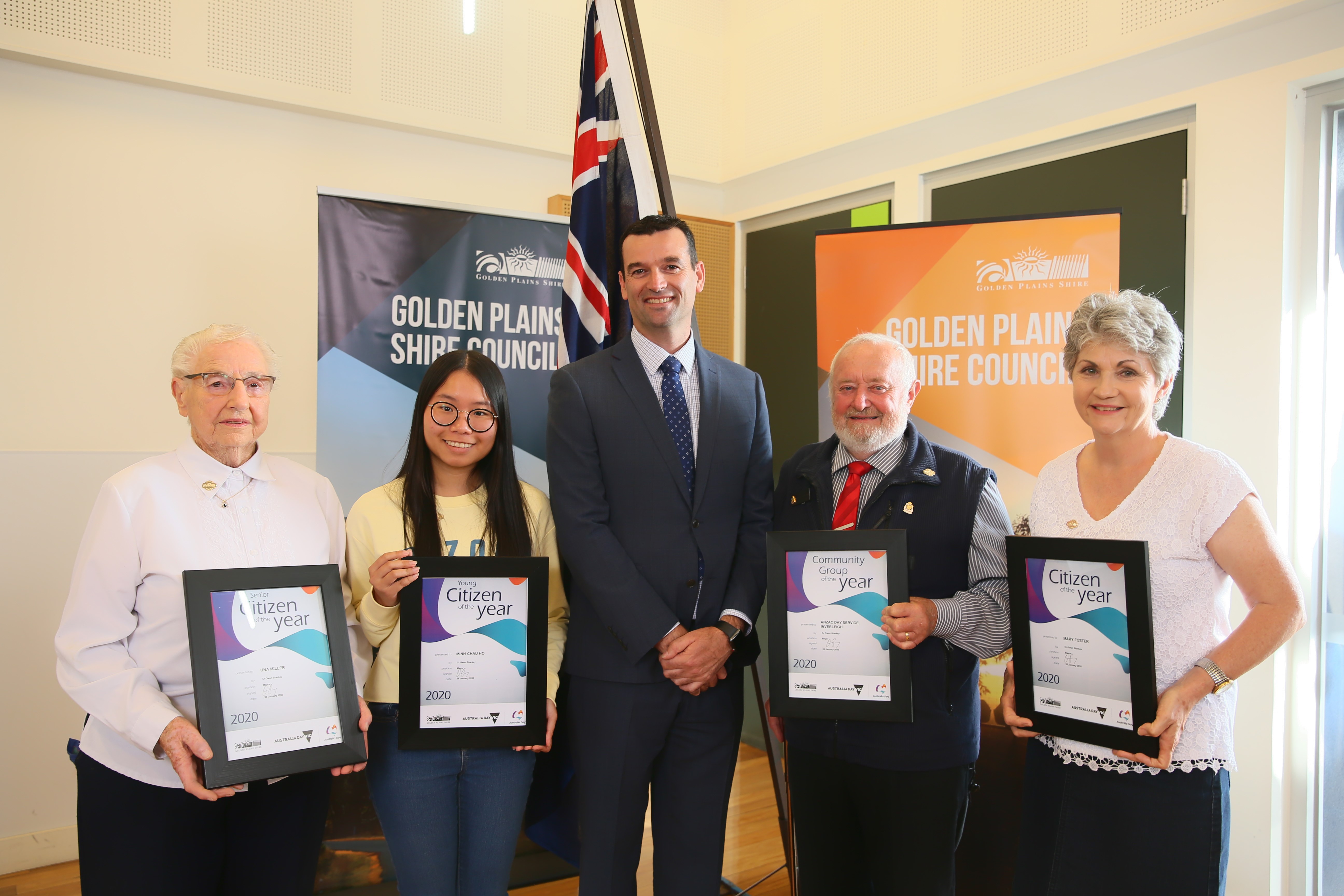 In front of an enthusiastic crowd this evening, Mayor Cr Owen Sharkey presented the 2020 Australia Day Awards to four well-deserving nominees at the Bannockburn Cultural Centre.
Citizen of the Year
Mary Foster has been a resident of Meredith for more than 30 years, and is dedicated to the health needs of her community. A nurse, Mary was a foundation member of the Meredith Community Emergency Response Team (CERT), a highly trained group of volunteers who are first responders for emergency medical care. Mary is also a member of the Lions Club of Meredith & District, and actively involved with St Joseph's Church, Meredith.
Senior Citizen of the Year
Una Miller has been an active member of the Inverleigh community since moving to the town 13 years ago. A life member of the Country Women's Association, Una is a mentor for younger members of the Inverleigh CWA, and goes out of her way to assist other members of the community. Una is also an active member of the Inverleigh Presbyterian Church, Inverleigh Progress Association and the local walking group.
Young Citizen of the Year
Minh-Chau Ho of Dereel has a passion for maths and languages, and is always happy to help her classmates, younger students and neighbours in their studies. She helps her Vietnamese classmates with their school work, learning English and Australian culture. Minh-Chau also spends her spare time helping her parents with community fundraising events to support the Royal Children's Hospital and the Ballarat Foundation.
Community Group of the Year
Inverleigh's Anzac Day Service is an important date on the Shire's calendar of events. The Inverleigh RSL ensures the Anzac Day and Remembrance Day services in Inverleigh, Bannockburn, Teesdale, and Shelford are run rain, hail or shine. The volunteer driven events are promoted nationally, and attract more than 500 visitors from across the Shire, Victoria, Australia and internationally.
The dedication of the four award recipients, and all nominees were acknowledged at the special ceremony, which also celebrated the contribution of Council's volunteers, and Community Coordinators as part of the 20 year celebration of the Community Planning program.
Mayor Cr Owen Sharkey says it was tough decision for Councillors to select a winner from the list of 12 impressive nominees.
"Council's Australia Day Awards celebrate the efforts of our extraordinary residents, who have demonstrated community spirit and dedication to their communities."
"We are very fortunate to have such community-minded residents as Mary, Una, Minh-Chau and all the volunteers who put together the Inverleigh Anzac Day Service, living in our community."
"Congratulations to this year's Golden Plains Shire Australia Day Award winners."