Food Access Project 2015
Council gathered information about the Shire's food system to help improve food access and security* for Golden Plains communities.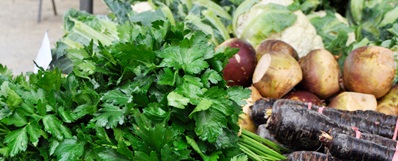 About
About:
Council gathered information about its food system in the Shire to assist in the development of future actions that help improve food access and security* for Golden Plains communities in 2015.
According to the World Health Organization (WHO), food security is defined as being, "the availability of nutritious food that is accessible to all, for a reasonable price, on a regular basis." Food security relates to food production, supply and access, among other elements.
PROJECT UPDATES
Over 300 Golden Plains Shire residents took part in a range of online and face-to-face consultations between May and June 2015. Community feedback from these activities provided valuable information about how healthy food is accessed in the Shire, the challenges often faced with accessing healthy food, and ideas to improve access to healthy food. Key findings from the consultations are provided below.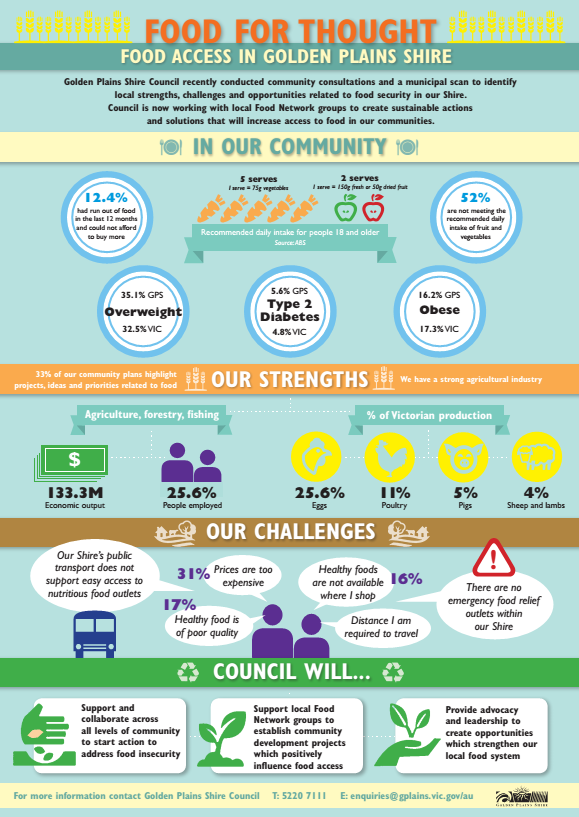 Two Food Forums were held in Bannockburn and Smythesdale in August 2015 to bring together community members interested in local food systems, including the sourcing, growing, cooking, and sharing of food. 54 community members attended the forums and shared and prioritised ideas about how to address local challenges.
In October 2015, over thirty people from thirteen different communities participated in the initial Food Network Meetings in Bannockburn and Smythesdale.  From these meetings two Food Network Groups were established to identify and work on projects that help improve access to healthy food in Golden Plains Shire.
Nine project ideas were prioritised, including:
Community Vegie Patch Group – a workshop and skill, knowledge and produce sharing group
Community market initiatives - children's activities
Food is Free Table - a table of food (fresh) to be freely available to anyone who wants/needs.
Schools initiative – encouraging families to grow their own food.
Planter boxes with edible produce for the Main Street of a local town.
Emergency food relief, for those in need, with non-perishable food items to be stored within a community building.
Community Gardens – two towns identified
Directory of local produce
Street/Harvest Festival
Timeline
MAY AND JUNE 2015: COMMUNITY SURVEY AND COMMUNITY CENTRE DROP-IN SESSIONS

2 MAY 2015: COMMUNITY CONSULTATION AT BANNOCKBURN FARMER'S MARKET

24 AUGUST 21015: BANNOCKBURN FOOD FORUM

26 AUGUST 2015: SMYTHESDALE FOOD FORUM

SEPTEMBER 2015: FOOD FORUM OUTCOMES PUBLISHED

8 OCTOBER 2015: SMYTHESDALE FOOD NETWORK MEETING

12 OCTOBER 2015: BANNOCKBURN FOOD NETWORK MEETING
Contact Information
Health and Wellbeing Team Leader
enquiries@gplains.vic.gov.au
Last Updated:
Friday, December 18, 2015
Council worked with community members to understand how we can improve food access and security in Golden Plains.